Product Overview
We sell custom tarps that are made to order so that they satisfy your exact specifications. Custom tarps are generally built and shipped within one to two weeks of your order. When ordering a custom tarp, you can specify any of the following materials:
Read more about our tarp material. Learn the difference between material weights and thicknesses.
Learn about raw material widths and seams.
Heavy Duty Solid Vinyl Tarps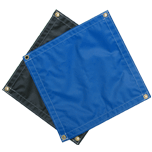 Designed to be waterproof and long lasting, our vinyl tarpaulins are made from industrial grade vinyl. All edges are reinforced with 6,000 pound nylon and polyester webbing, the same material that is used in vehicle seat belts. Grommets (or eyelets) are made from stainless steel to prevent rusting. Tarps intended for interior applications, such as curtains and room dividers, include fire retardant. Exterior tarps include cold crack and UV protection.
Our quality tarps are custom ordered and ideal for Roofers/Construction firms, Farm and Agriculture applications, Trucking companies, Boating and RV protection and Welding and Manufacturing applications. You specify the colour, size (length and width) and number of grommets you'd like added along the edges and we manufacture the tarp to your exact specifications.
Key Features and Benefits of our Solid Vinyl Tarps
Durable protection from the elements (sun, rain, snow, UV, environmental pollutants)
Rugged, thick vinyl material is less influenced by winds than traditional polypropylene tarps (which act like sails in high winds)
Products designed for indoor use include Fire Retardant
Waterproof
Specially formulated to include UV and cold crack protection
Oil, grease and acid resistant
Scratch & tear resistant
Available in any size
You can specify the number of grommets to be added along the sides (can vary for different edges).
Learn about Grommet Spacing.
Can be custom fitted into any 3-dimensional shape
Special fasteners can be ordered including D-Rings, Velcro and Zippers
Mould and mildew resistant
Waterproof Vinyl Tarp Colours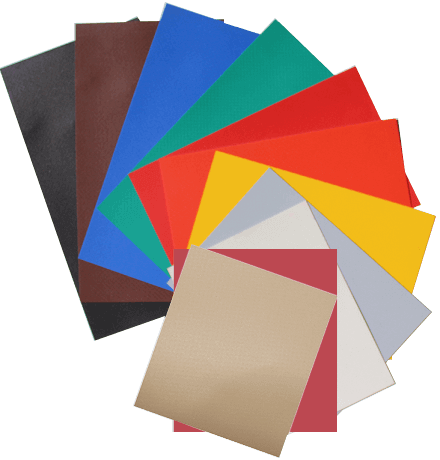 Our selection of colours changes over time but we always have the following colours in stock: Black, White, Red, Green, Grey and Blue. We also sell Transparent Tarps.
We often have the following additional colours in stock but since these are not as popular we don't stock large quantities of these colours so we may run out of these colours from time to time: Yellow, Brown, Charcoal, Maroon, Orange.
Please note that dye lots change so we can't guarantee your colour matches the samples shown here. Also note that our 18 oz Fire Retardant material is only available in Red, Blue, Grey and Black. Our most popular colours are black tarps and white tarps.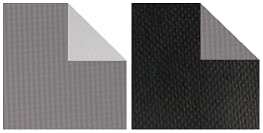 Our heaviest material (50 oz vinyl) is available in a laminate where the front and the back may be different colours. Our selection of colours varies but we currently have the following colours available on 50 oz material: grey on both sides, grey/white combination or a grey/black combination. When you order this material, just choose the colour that you want on the outside of the tarp (the side that does not show the hem). This material is ideal for firewood covers.
Generally, one side of the vinyl is smooth and the other side has a slight texture. The smooth side is usually used for the "finished" side of your tarp. This is the side that does not show the hem.
Heavy Duty Mesh Tarps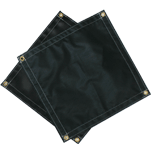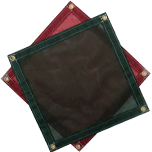 Our mesh tarps are ideal for covering dump trucks or trailers to satisfy Ministry of Transportation regulations. They also make ideal awnings and canopies as well as privacy fences. These are also widely used in construction applications to wrap buildings to protect against falling debris.
For shade applications we recommend the 90% sun block mesh. If you want to allow more filtered light then go with the 60% block premium mesh. The 60% block is also ideal in windy areas since the mesh will allow greater air flow. Our 70% mesh can also be used but be aware that this has some stretchability and tends to want to curl.
Our mesh tarps are made to your exact size requirements and you can specify the number of grommets on each edge. All edges are lined with industrial strength vehicle seat belt material. These mesh tarps are made of vinyl coated polyester.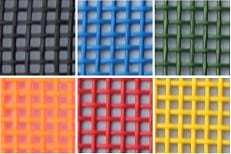 The 60% mesh tarps are available in the following standard colours:
Black
Blue
Green
Fluorescent Orange
Red
Yellow
Our 70% mesh is available in black, red, blue and green and the 90% mesh tarps comes in black, dark green, blue and red.
Learn more about our Mesh Tarps.
Standard Products
We stock the following standard products to facilitate fast delivery. For product prices, please visit the links below.
Roll Tarps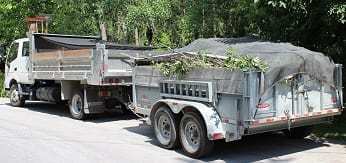 We carry pre-cut heavy duty roll tarps in lengths required for 12 to 22 foot boxes. These have reinforced headers and optional pockets at one or both ends.
We also carry specially designed roll tarps such as our asphalt truck tarps and salt truck tarps. If you have special requirements for your roll tarps, such as side rollers, we can manufacture to your exact specification.
Container Covers

Container tarps are designed to cover industrial metal containers, they come in 12 foot widths and lengths can be 18, 24 or 26 feet.

For pricing, please visit our Container Tarps page.
Heavy Duty Poly Tarps
We carry a wide selection of poly tarps in standard sizes. For typical construction applications and residential applications we offer 3.5 oz general purpose poly tarps.
If you are looking for more of an industrial strength poly tarp we stock 6 oz heavy duty poly tarps. Both of these weights are also suitable as skating rink liners.
Another common application for our heavy duty poly tarps is covering hay. Our hay tarps come in 6.2 oz poly and are available in a wide range of sizes. To learn more about these tarps please visit our hay tarp order page.
Premade Canvas Tarps
We offer a wide range of in stock wax coated canvas tarps. Canvas is a good choice of material if you are looking for a tarp in a breathable, natural fabric. Although canvas is water resistant, it is not completely waterproof. You can see the sizes that we stock on our canvas tarp order page.
Oversize Load Signs
Visit our Oversize Load Signs page to learn about this product. We can also manufacture custom signs according to your exact specifications.
Rubber Tie-Down Straps
Visit our Rubber Tie-Down Straps page to learn about the different lengths of tie-down straps we carry.