Golf Simulator Projection Screens
We offer three grades of Golf Mesh.
Our Standard Golf Mesh is 12 oz per square yard.
Our HD Golf Mesh is 12.6 oz per square yard and offers improved picture quality over our Standard Golf Mesh.
Our 3-Ply HD Golf Mesh is 13.9 oz per square yard and provides the best projection capabilities along with improve sound dampening.
All of these materials are made of powerful synthetic resin polyester mesh with a tight weave making them ideal use as projection screens. Here are the main characteristics of all of our Golf Mesh materials:
Minimal golf ball bounce back.
Quiet impact.
High durability.
Instantaneous recovery.
All Golf Mesh comes in a maximum material width of 120".
Our golf screens are made to order to your exact specifications in terms is size and finishing. Below we describe the different materials in greater detail.
Standard Golf Mesh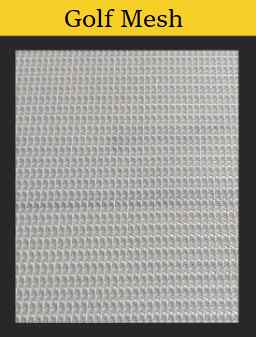 To help you get a sense for the degree of transparency of the material we have placed the sample on a table on top of dark wood grain. You can see that the standard Golf Mesh does not entirely block this out. When using the Standard Golf mesh as a projection screen, we recommend hanging black material behind the screen for improved picture quality. More details can be found on our golf simulator projection screens page.
HD Golf Mesh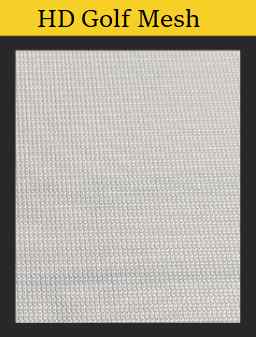 As you can see in this photo, the HD Golf Mesh does a better job of blocking out the dark patches behind the sample. This material has a tighter weave and a smoother surface than the standard Golf Mesh. The HD Golf Mesh will provide good projection quality even without a black background, however, adding a background generally enhances the projection quality.
HD Golf Mesh 3-Ply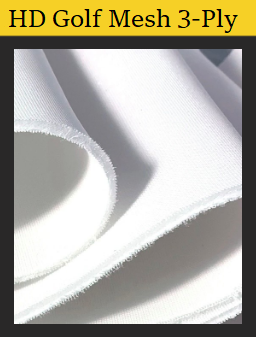 The 3-ply HD golf mesh consists of 3 layers of material for a total thickness of 3.4mm (.135 inches). The interior "foam" material helps to dampen impact noise and provide an opaque projection surface. This product provides excellent high-resolution picture quality and is ideal for use as a home theatre projection screen (as well as a golf impact screen).
Impact Screens Not Used as Projection Screens
If you are looking for an economical golf impact screen and you are not planning to use it as a projector, or you don't care that much about the picture quality, consider our Sawdust Mesh material as an alternative to our Golf Mesh products.