Replacement Golf Simulator Screens
Virtual golf simulators are a great way to keep up your golf swing all year round. The projection screens used by these systems need to take a lot of abuse. Low quality simulator screens may be cheap to buy but they don't end up lasting very long. High quality golf simulator impact screens are normally made of Kevlar and cost thousands of dollars.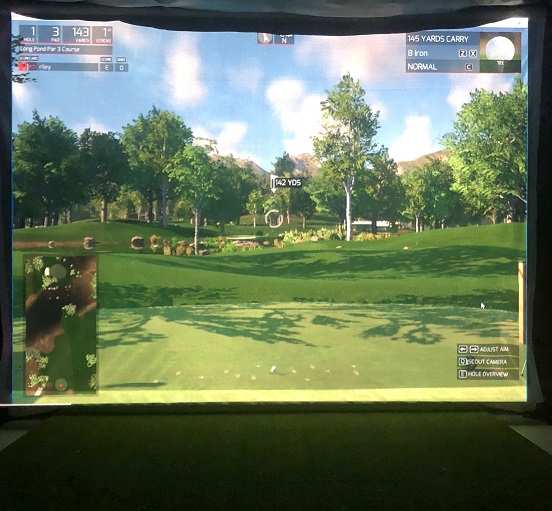 At Heavy Duty Tarps we offer extremely cost-effective screens that can be made to your exact specifications. For this application we recommend our 12 oz white sawdust mesh for maximum durability. This material comes in 116 inch widths so you can usually create a seamless surface.
This material is also pretty quiet when the ball strikes it and there is very little bounce-back.
We generally recommend adding a pocket (channel) to the top and bottom so that you can hang the screen on a pole suspended on each end (and in the middle for longer spans). This creates a nice level surface to prevent drooping and sagging. The lower pocket allows you to insert another pole or similar item to add a bit of tension to the screen. This setup is preferred to fastening the screen on all sides since you want the screen to have some "give" so that the balls don't break through the tarp or bounce back. If the tarp is too tight it has to take all the force of the balls and won't last as long.
Since the mesh material has tiny holes throughout the surface you should avoid having the image being projected off whatever is behind the screen. For this reason, we recommend placing the screen in front of a black wall or draping dark material behind the screen. This will ensure a much better picture quality.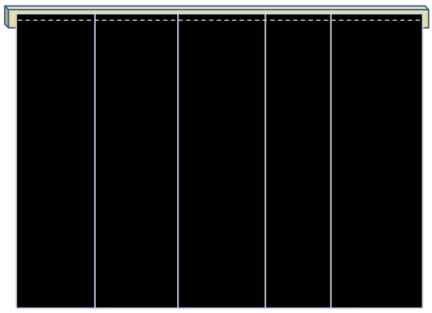 Rolls of black felt roof underlay can be purchased at Home Depot or other building suppliers for about $30. These can be cut into strips which are stapled to a 2x4 running behind your screen as depicted here. This is a very cost-effective way to improve the picture quality.
When sizing your screen, be sure to consider the aspect ratio of your projector. In most cases, the height of the screen will be constrained by your ceiling height. Let's say you have 8' ceilings. If the aspect-ratio of your projector is 16:9 this means that an 8' tall image would be 14.222 feet (8/9*16) wide. In such a case you would generally want to make the screen 8' x 14' 3" so that the projected image completely fills the screen.
Keep in mind that the maximum seamless height is 112" if you are using grommets top and bottom. If you want pockets instead of grommets, the maximum seamless height would be 116 - pockets sizes. For example, if you want a 4" pocket on the top and bottom, we can make the screen up to 9' tall (116" - 8"). There is no restriction on the length in the other dimension. Note also that the pocket sizes reflect flattened pockets, so a 4" pocket could accommodate a pipe up to about 2" in diameter.
If you want to make use of the full 116" of material, we can also forego the fold in the hem and just sew the mesh material directly onto the seat belt reinforcing where the grommets are punched. This method would allow your screen to be a full 116" in one direction (there is no limit on the other direction).
To order, use our Complex Custom Tarp ordering link and indicate that you want the sawdust mesh and enter your required dimensions, pocket sizes and grommet configuration. Use the notes field to specify that the screen will be used for a golf simulator screen and that it should be hemmed in white with no seams.
If you are already using one of our tarps as an indoor golf simulator screen please send us a note and we will post it on our blog. A nice customer sent us this video of himself using one of our replacement golf simulator screens.
Customer Testimonials
Location:
Edmonton, Alberta
Rating:
Excellent

Comments:
bought a sawdust mesh tarp for a golf simulator. was expecting 2 week delivery but got it in only a few days. having hit many balls into this tarp i must say that it's incredibly good. any impact marks left behind are erased simply by running your hand over the mesh. it's incredibly quiet and easily kills a real ball hit with a driver from only a few feet away. no errant bounces at all. i had mine built with pockets top and bottom and both were reinforced with a sturdy material. super impressed with the quality. if you look at the price of golf simulator screens it can be absolutely shocking, but what heavydutytarps offers for the money is second to none. buy with confidence.
---
Location:
Saskatoon, Saskatchewan
Rating:
Excellent

Comments:
I had a great experience with heavy duty tarps! I had them make me a custom sized golf simulator impact net/screen. I was able to design is exactly as I wanted it all online, including a quote at the end of the process. Shipping was free because I live in Canada, and I couldn't be happier with the results! If you're thinking about setting up a golf simulator you should check these guys out first. I paid 1/4 the price that I thought I would.
---
Here is another photo sent in by Trevor of Watrous, Saskatchewan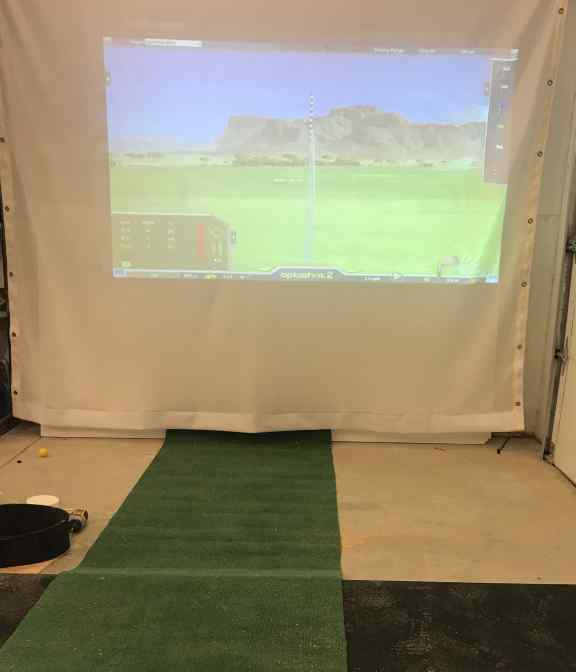 . Trevor writes "Love the tarp. It was exactly what we requested, and is working flawlessly as the impact screen for our golf simulator."
In addition to DIY golf impact screens, our tarps are often used as inexpensive movie projection screens.