Firewood Storage Covers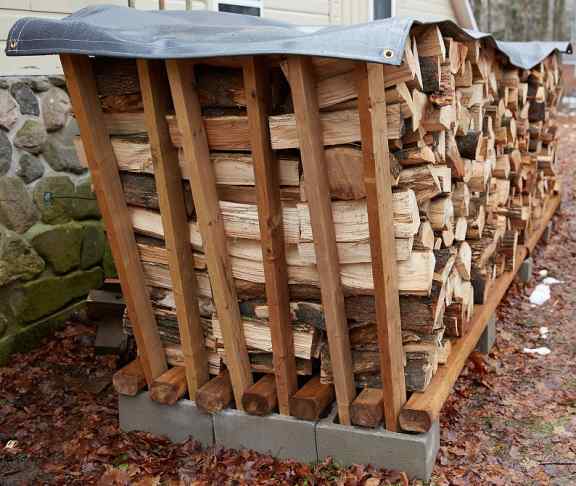 When storing your firewood, it is important to keep it dry to protect it from insects and rotting and so that it is ready to burn when you need it.
One of our customers sent us this photo of a wood rack that he built. It is an ingenious design for a number of reasons:

The materials needed are readily available at little cost.
It can be designed in almost any length and width.
It is very sturdy, stable and durable.
The design is pretty self-explanatory. We have listed the materials you will need in case you want to build one for yourself.
For each row in your pile, you will need a cement block every 4 feet or so. Each concrete block costs about $3.00.
A couple of pressure treated mini-ties per 8-foot row. An 8-footer costs about $13.
Some 2x4s to stick into the concrete blocks to use as "bookends". Note that about a foot of board will be tucked into the concrete so if you want your pile to be 4 feet high you should buy 10-footers and cut them in half. Each of these will cost about $6 - $9 depending on whether you want them pressure treated. Avoid having the butt of the 2x4 sitting directly on the ground since this will cause it to rot eventually. Put a bit of gravel in the hole to prevent this.
Of course, the pièce de résistance, is a high quality custom sized tarp from heavy duty tarps. Any weight 18oz and up will do but we recommend going with the 50 oz material because it does not cost that much more and it is heavy enough on its own that it will generally stay put if it is not too windy (the tarp shown in this photo weighs 30 pounds). Don't forget to add an extra couple of feet in the length (beyond the length of the base) since the top of the pile is going to be wider than the base. The tarp will cost anywhere from $100 - $200 shipped depending on the size and material.
In the above photo three rows of wood are being stored for the winter. If you want to dry out the wood faster, a single row should be used to improve air flow.
Notice the tarp does not go down the sides of the pile, this is important since you want to expose the wood to as much air as possible while keeping it relatively dry.
Our waterproof tarpaulins are ideal for protecting your firewood from the elements. Since you can order any size you need you can have the perfect cover no matter how big your woodpile is and how it is oriented. You can decide whether you want to just throw the tarp on top of the pile as is shown here or you could also suspend the tarp above the wood pile using ropes connected to grommets along the edge of the tarp.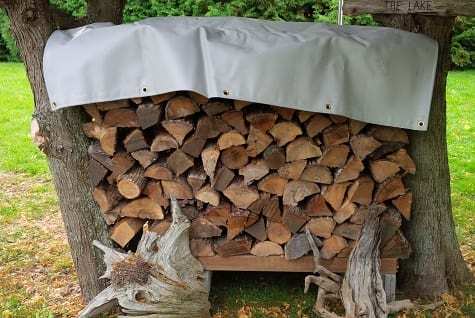 Another customer sent us this photo showing how he used two nearby trees as "bookends" for his stack of firewood. Once again, be sure not to pile the wood directly on the ground to keep it dry and prevent rotting. You may also be interested in our
custom woodshed tarps
.
You may also be interested in building a Holz Hausen wood stack.