Wood Shed Tarps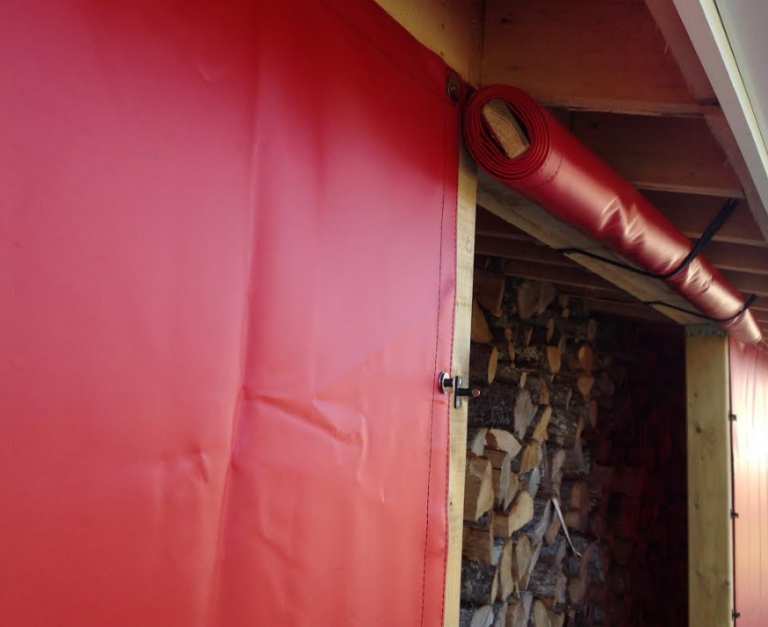 If you have an open sided wood shed it is a good idea to keep this open when it is dry to help the wood dry out but during rainy or snowy periods you want to be able to close up the shed to prevent your wood from getting wet. Tarps are a convenient and inexpensive way to close off your woodshed when needed.
At Heavy Duty Tarps we can design customer woodshed tarps to fit your exact requirements. Tarps can be designed with a pocket (or channel) on the bottom where you can insert a pole or a 2" x 4" to make it easy to roll up the tarp and fasten it in the open position as we show here.
If you want to keep the tarp doors of your wood shed closed most of the time, you might consider using our 90% block premium mesh. This will allow better air flow to help the wood dry out faster. This mesh should block most of the snow and significantly deduce the rain water that will end up in the shed.
Woodshed Tarp Testimonials
Lenny Marsico of Alexandria, Virginia writes "I am very pleased with the special order tarp that you delivered. It was exactly to specifications and of the highest quality. I found your order process to be expert and customer-friendly. Your sales department took great care to ensure that our order was promptly and accurately fulfilled. The materials and workmanship was of the highest quality. It is a real pleasure to know that traditional craftsmanship, service and value are your highest priorities."
Lenny sent along this photo of his tarp installation.