Canvas Tarps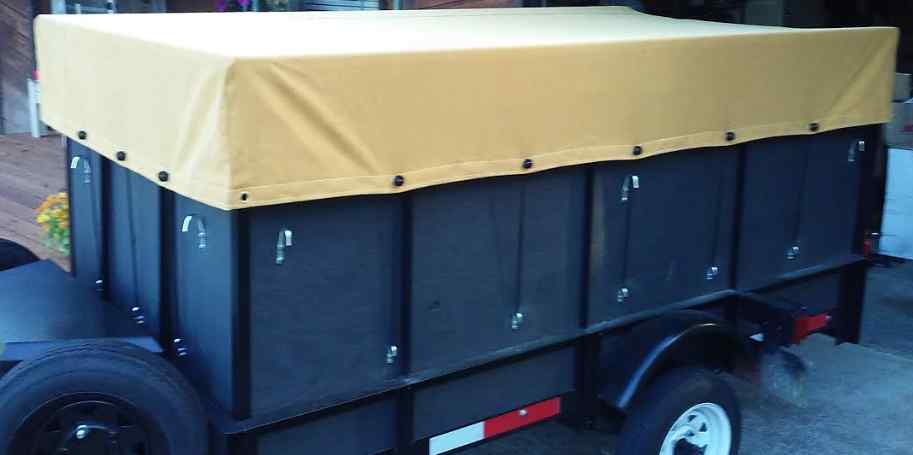 Canvas tarps are ideal for applications that require a water resistant protective covering while at the same time allowing the cover to breathe to prevent condensation and mould growth. Canvas used to be an extremely popular option however its use has diminished over the past couple of decades because vinyl covers provide many advantages over canvas for most applications.
Unlike our solid vinyl products, canvas is not suitable as a waterproof covering. Although our canvas material is treated to repel water and prevent rot, it is not completely waterproof and moisture will penetrate the canvas once it becomes completely saturated.
Canvas can be used for covering RVs and other equipment to keep them clean and to prevent UV damage however vinyl covers are usually preferred for this application.
We currently only carry one colour of treated canvas which is a tan/light yellow (natural) colour shown in the above photo of a fitted canvas trailer tarp.
We don't recommend using canvas to cover outdoor furniture since the dye used to colour the canvas can transfer onto other materials. For recommendations on this topic, please refer to our patio furniture covers page.
We also don't recommend treated canvas for indoor applications since the wax used to treat the canvas to improve water and rot resistance has a strong odour. The smell will gradually dissipate if the canvas is exposed to sunlight.
Since canvas is made from cotton, it can shrink or stretch over time. If the sizing of your tarp is critical, please allow for some shrinkage in your calculations. It is difficult to say exactly how much however since this will depend on exposure to sun and rain. We have heard of a case where a 9' long section of canvas shrunk by a full 8".
If you have some flexibility in the size of your tarp, the most economical option for purchasing a canvas tarp is to go with one of our pre-made, in stock canvas tarps. These are available in a wide variety of sizes ranging from cut size 6' x 8' all the way up to 20' x 20'. You can see all of the sizes or place an order by visiting order a canvas tarp. If you require a specific size or special features please use our shopping page to order a custom tarp.
Our canvas material has a 17 oz weight (after treatment) and is weaved using 76 x 28 yarns (single fill).
Flame retardant canvas is also available. This can be used to cover hot asphalt and other applications where vinyl is prone to melt. When ordering, select the FR Canvas material if you require the canvas to be coated in fire retardant. As with other Flame Retardant tarp materials, the FR coating does not make the material fireproof, instead it just slows the burning process. Also please be aware that the fire retardant chemical also has a strong odour which tends to persist for a very long time so FR canvas is not suitable for areas where people will be sitting or working.
In addition to treated canvas, we also offer Untreated Natural Canvas Tarps.

Canvas Tarp Testimonials
Location:
Toronto Ontario
Rating:
Excellent

Comments:
Couldn't be more pleased. Rapid turnaround. First rate product.