Black Tarps
Black tarps offer maximum sun blockage, full coverage and protection suitable for all weather use. Our heavy duty black vinyl tarps offer great long-lasting protection. All of our vinyl tarps are reinforced with polyester webbing and hemmed using seat belt material, providing you with a superior quality product.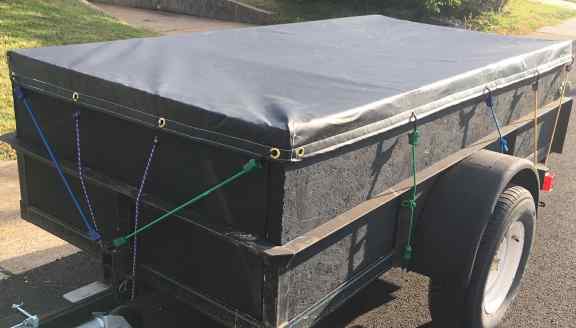 Black tarps tend to absorb heat so avoid ordering black in situations where you have full sun and you don't want the item(s) being protected by the tarp to get hot. Black tarps don't tend to show dirt and scuff marks as much as lighter tarps do making it the most popular colour choice by Heavy Duty Tarp customers.
Here we show a photo of a fitted tarp, this is just one of the options that we offer. Follow this link to learn about other configurations of utility trailer tarps.
Tarps Used to Encircle a Post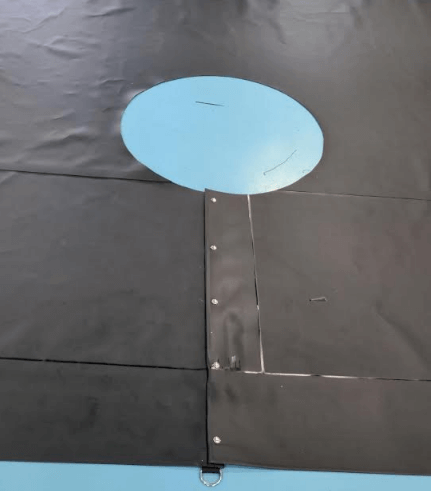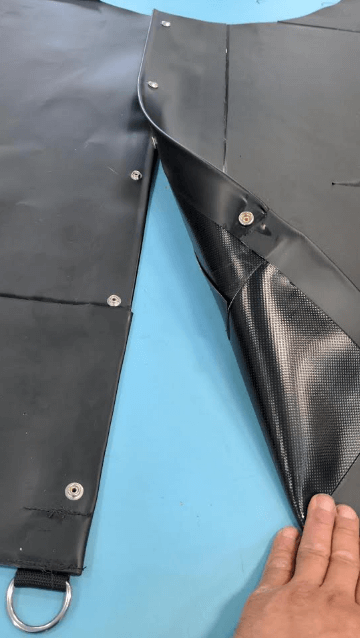 Sometimes you may need to encircle a pillar, a boat mast or a post with a tarp. For applications like this we can create a sealable cutout within the tarp to ensure it stays secured. The two sides can be reconnected using Velco, a zipper or snaps as is shown here. Note that it is not possible to create a waterproof seal when joining two sections of tarp so, ideally, you should have some slope below the seam so that rain water will flow from the upper layer of tarp onto the lower layer, much the way shingles are oriented on a roof. That way, gravity will prevent water from flowing into the seal.
Gate Covers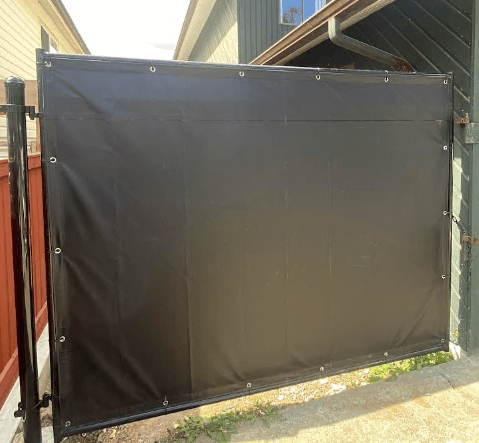 If you have a see-through gate, tarps are an inexpensive way to add privacy and security to your property. Keep in mind that this will add wind resistance to the gate's support structure so this is only recommended in conjunction with heavy duty gate posts that are well anchored. You can lessen the wind load by cutting flaps into the tarp that will allow air to flow through the tarp. Zip ties provide an easy way to attach the tarp to the gate.
Learn more about our gate covers.
Wind BreakS and Privacy Screens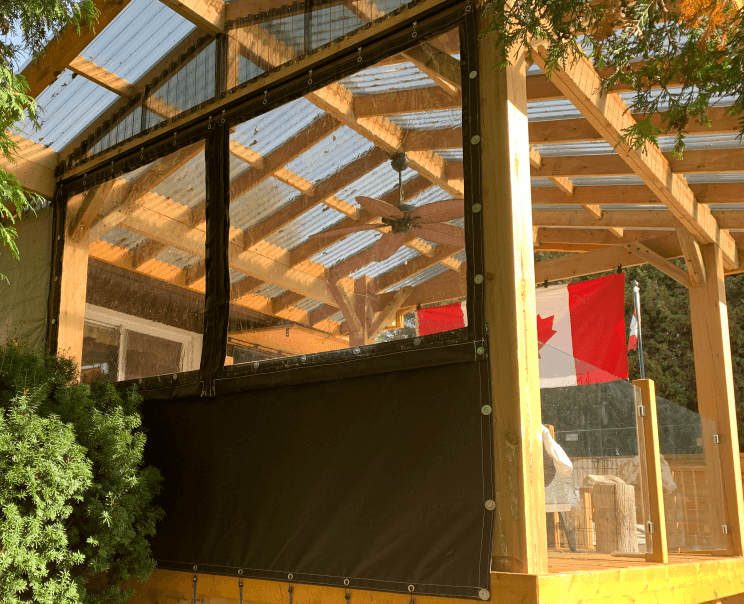 If you have an area on your property where the wind destroys your enjoyment, consider adding a tarp to block the wind. A solid vinyl tarp will block 100% of the air flow. You can add clear vinyl windows to provide visibility. You can also go with our 90% block material to cut most of the wind while still allowing some air flow. If you are interested in this option, please visit our page covering shade tarps. Of course solid tarps also make great privacy screens if your neighbouurs are a little too close for your liking.

Commercial Covers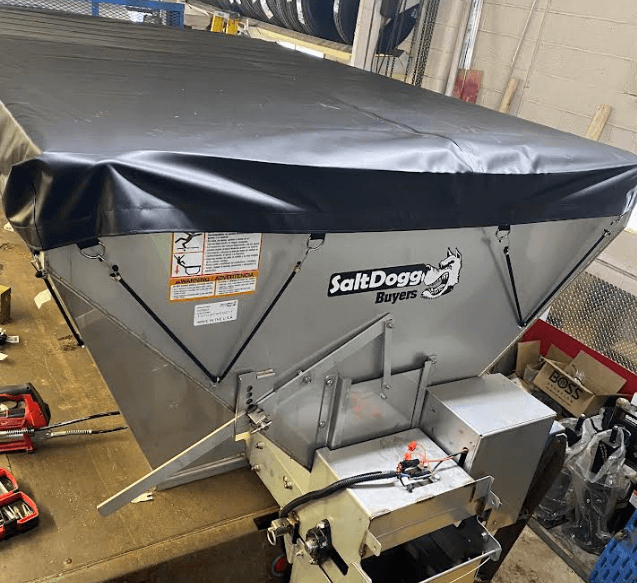 Black tarps are often used for commercial and business applications like this Saltdogg Spreader cover. We can add your company's logo or name to your tarp to give it a professional look.

Charcoal Tarps
If you are looking for a dark colour but you don't want to go as dark as black, consider our charcoal which is pictured on the top of this photo above our grey material.
You may also be interested in our Brown Tarps.