Mesh Ideal for Shade and Wind
Today's post comes from Bob Fielder, one of our customers from Alberta. Bob writes: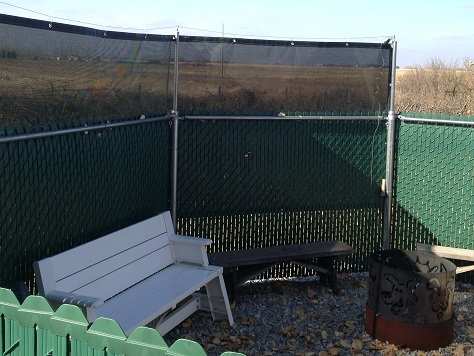 I have attached a couple of photos showing the application of your tarps. We built a new outdoor fireplace enclosure this summer using chain link fencing. It is only 5' high and so the late afternoon sun and resulting heat can make it a tad unbearable some days. To counter that, I purchased your tarp, exactly 21'x5', so that I could attach it to an overhead wire strung between 4 poles set within perimeter posts of the octagon chain link enclosure. The poles are adjustable and can be raised and lowered, allowing for the shade screen to add another 5' to 10' in height and protection.
As an added bonus we have found the screen to be so durable that it makes a very effective wind screen as well, allowing just enough of the wind through so that the screen doesn't act as a sail. Very attractive, very effective.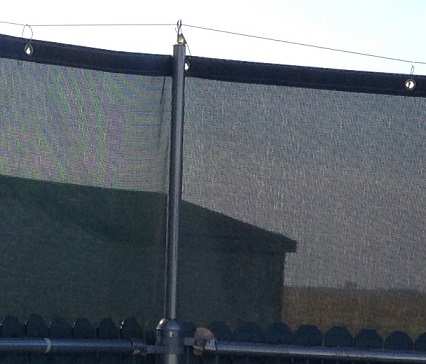 Thanks Bob for sending in photos and a write-up for our blog.
Here you can see a close-up of how Bob used a wire cable to support the top of the tarp. It was quite
ingenious
to design the supporting poles to allow them to be raised or lowered as needed.
These photos also give you a sense for the degree of privacy offered by the 90% mesh. It is quite surprising how well you can see through the material despite blocking 90% of the light.
If you want 100% privacy you pretty well have to go with a solid vinyl material but then you lose the advantage of wind being able to blow through the material. A structure like this would most likely collapse on a very windy day if the fence was covered with solid vinyl. When buying solid fence covers we recommend having us add wind flaps to let some air flow through the tarp to reduce the force on the fence posts.
Here is another photo that shows the area from another angle: