Insulated Tarps

Some tarping applications, such as refrigerated storage and concrete curing, require insulated tarps. We manufacture custom insulated tarps and curing blankets to meet this need.
Our insulated tarps are made up of three laminated layers consisting of 18 oz vinyl on the outside and 3/16" polyethylene closed cell foam material in the middle (shown below). Note that the insulation is ridged to increase the air space beyond the thickness of this insulation itself for improved insulating qualities. We can also sew these tarps with a zippered edge so that insulation can be added later by the customer to accommodate other types of insulation.
These industrial blankets can be used in any application where it is necessary to keep out the cold or the heat. Since the outside is made from our heavy duty 18 oz vinyl, they are very rugged and durable, even for the harshest applications.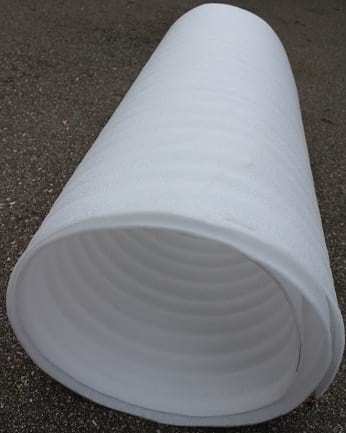 Due to the weight and layering of this material, we generally can't make insulated tarps that are larger than about 1,000 square feet. These tarps have never been tested to establish an accurate R-value but they are estimated to have an R-value of 3 or 4.
In addition to using these tarps for insulation, they can also be used to wrap something that you want to protect from getting damaged. These can also be used to create custom elevator blankets.
Note About Waterproofing
Stitching our insulated tarps involved perforating the edge of the tarp where the outer layers of vinyl are joined. These tiny perforations may allow water to seep into the interior of the tarp. Grommets may also allow some moisture to Infiltrate the tarp. This is particularly true if the tarp is allowed to be submersed in water. If the tarp is used as a cover, even under wet conditions, this will generally not be an issue provided the hem remains lower than the body of the tarp.
If your application requires that the insulated tarp be completely sealed such that no water can gain entry to the interior of the tarp, we recommend sealing the hem with Flex Seal or some other waterproofing compound.
In addition to custom fabricated insulated tarps we also offer stock orange insulated curing blankets when available. These are constructed using a 1.9 oz waterproof orange poly outer skin and an internal layer of 3mm closed cell foam insulation. Grommets are spaced every 3 feet. These come in sizes 8' x 24', 12' x 20' and 12' x 24'. Pricing depends on qualities ordered so please call for a quote to check pricing and availability.