Customer Testimonials

They used to tell us that you could only expect to receive any two of the three options of "Good Service", "Good Product" and "Good Price" with any purchase; that you would have to sacrifice one in order to get any of the other two. Heavy Duty Tarps proved to be the exception and delivered all three.
Bob Fielder
Langdon Alberta
---
I received my tarp last Wed as planned. I had a chance to use to today to bring a full load of leaves to our community recycling center. It fit and worked perfectly, no buffeting at all at 50+mph with bungees holding it down. I had the best looking and functioning trailer at the center :-)
Thanks for making a terrific product.
Best Regards,
Chuck Kendall
Brookfield Wisconsin
---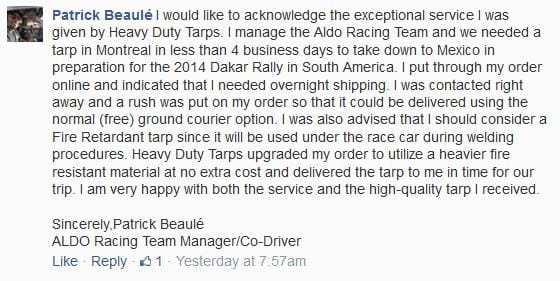 Patrick Beaulé of the ALDO Racing team told us "I will not hesitate to recommend you and buy from you again." Patrick also posted these comments on our Facebook Page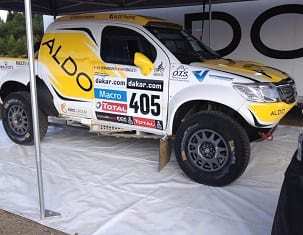 Here is an "Action Shot" of the tarp. You can click on this image to see a larger version. Follow this link to see the complete ALDO tarp including a logo.
---
Our new tarp is exactly what we wanted. We've been very pleased with the service we received as well. We called several times before placing the order, asked innumerable questions, requested some sample swatches so we could see what the fabric would be like, and so forth. Our questions were all answered completely and very graciously. The tarp actually arrived much faster than we thought it would. All in all, a great experience.
Thank you so much!
Allison Spangler
Director, Chamblee Methodist Kindergarten
Chamblee Georgia
---
I ordered a custom fit mesh tarp. I found a pull in the fabric when I opened it. I emailed Scott and a new tarp was here in 2 days NO CHARGE. The customer service is EXCELLENT and any tarping needs I have will be done thru Heavy duty tarps. I very HIGHLY recommend them and I am very satisfied with the tarp.
Thanks so much for the great service,
Tom McAdams
Brantford Ontario
---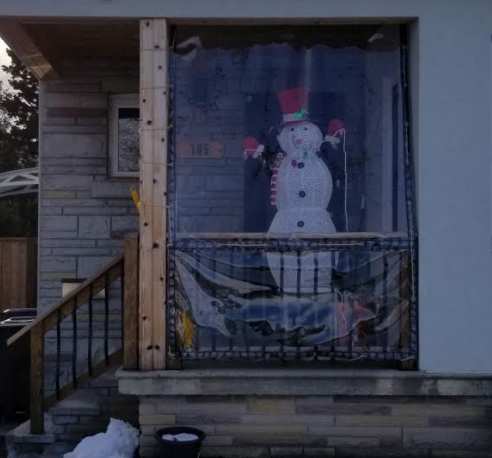 We contacted heavy duty tarps to get tarps to provide shelter from winter winds and snow to entrances at our house. We wanted them to be durable, transparent and of course made to fit the openings. We contacted Heavy duty tarps and had excellent service as we worked out the design of the tarps - one was irregular in shape to fit many angles. They arrived in decent time and seem very well constructed. They are in place and have done the job well for the first two snowfalls they have been in place. We have no hesitation recommending them to our friends.
Tom Farrell
East York, Ontario
---
I am more than pleased with you and your company's efforts on my behalf. I very much expect there will be referrals in the not too distant future from me as well as more orders from me personally.

Thanks again,
William Phillips
Kitchener Ontario
---
Very happy with the customer service when placing the order. Tarp arrived on schedule. The tarp is good quality and just as ordered. Using as a roll up door and fits perfectly. Very satisfied customer.

Jeff Hester
Canton Georgia
---
The tarp is fantastic. I definitely highly recommend your company. Thank you very much for everything.
Mike Stasiuk
Russell Manitoba
Mike also sent along these pictures of the car port he repaired with a new 18 oz vinyl tarp:
---
The tarp I purchased from Heavy Duty Tarps was just that "Heavy Duty"! The on-line ordering was easy, the delivery was prompt and the product exceeded my expectations!
Thanks for the great service and superior product.
Marc R.
Marc Royer Renovations
Harrowsmith Ontario
---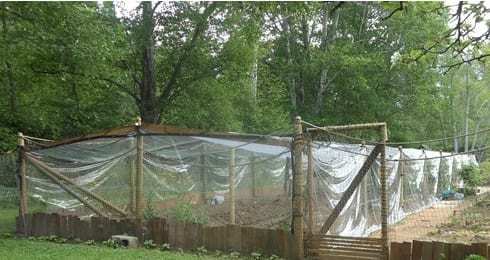 I just wanted you to know how happy I am with the very clear, transparent tarps you sent me. Here is a photo of the 20' x 80' seasonal greenhouse I built . The tarps are heavy enough not to flap in the storms, the wide black webbing with the grommets through them make for a strong securing point for the ball bungees I use. It is very easy to open or close as the temperature fluctuates, rain flows off the troughs I created on the roof and I was able to put it up single-handed and it should be easy to take down and store for the winter.
Thank You

K. Laughlin
Courtenay, British Columbia
---
The fitting [on our furniture covers] is perfect. We had wind, we had rain… and this is bar none the best cover we owned or seen available on the market. Yes, it is a bit on the expensive side compared to what's usually available. But seeing the quality and durability of the cover, it will repay by itself and saves us the trouble of going through several of these "off-the-shelf" covers currently available.
Best Regards,
Sylvain Lachapelle
Laval Québec
---
I've had a number of people ask where I got the tarp from because they want one for their balcony! I have, of course, referred them to your website.
Great purchase, keep up the good work.
Matt Ayres
Iqaluit, Nunavut
---
The [canoe] tarp is very well done and it is a perfect fit.
Thank You!
Jean-Denis Fréchette
Gatineau, Quebec
---
The tarp worked out perfectly.
Thanks for the great service.
Allan Vessmann
Thornhill, Ontario
---
Thank you very much for making such a nice product! It fits absolutely perfect and I could not be happier.
Tony Wettstein
Blaine, Minnesota
---
I wanted to follow up and thank you again for the quick turn around on the tarp. Attached are a couple of pictures of the tarp over the pergola. It worked out very well and I'm glad you suggested we go with the tan color. It matches very nicely.
All the best
Tom and Karen Jakubowski
Oakville Ontario
---
The tarp is FANTASTIC! The hole was not exactly where I indicated it should be, but we managed. I am extremely happy and will send photos as soon as I return from holidays. I am truly delighted.

Adele Mercier
Kingston Ontario
---
Hello, I would just like to say thanks. I received tarps and put them on. Any future needs i will get from you.
Thanks and Kind Regards
Dan Bowman
Edson, Alberta
---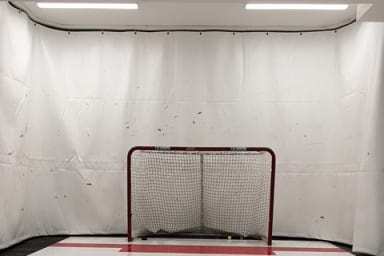 I recently purchased a custom built tarp that I am using for a background in my son's hockey training area.
The application has worked out perfectly. We are very happy with the product. I've included a picture.
Todd Halaburda
Victoria, British Columbia
---
We love our custom made tarp which we used on our kids' swingset fort. We were happily surprised at the quality stitching, thick material and eyelet placing according to our request.
Stanley Morgievich
Randolph, New Jersey
---
Very happy with the tarps I ordered. Exactly what I asked for and performing well. Definitely recommend this service.
David
Sault ste. Marie, Ontario
---
The product was high quality and as heavy duty as we expected. Nice stuff! We are going to order some more for our construction fence we use on job site. I will be in touch with that order. Thank you!
Kris Gaal
Brantford, Ontario
---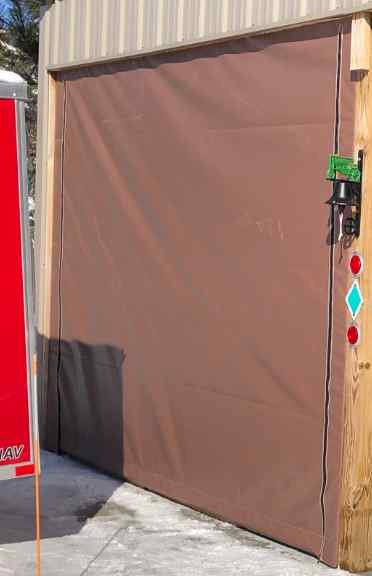 The tarp works good. Unfortunately the tarp was specified without any grommets and mine came them on the sides. I was able to make it work by smashing them down with a hammer. Not the best solution but able to make it work.
I'm waiting to see how this holds up before I order one for the other side.
Thanks for the follow up.
Rich Elkouri
Canton, Michigan

---
I am overall satisfied with the craftsmanship, materials, and packaging. I have restored and refurbished a 4'x8' utility trailer that i use regularly, after putting some thought into getting a perfect fit out of the tarp, I decided to order it a little bit bigger and custom fit a top rail onto the trailer. I constructed the railing from 2"x4" and rounded the edges to minimize point friction wear and tear. I think it looks really nice and will live up to my expectations.
The only thing that I am not entirely satisfied with is that it's not one seamless piece of canvas. I would have preferred no seams, I'm not overly concerned about it though.
Gerald Voss
Port Orchard, Washington
Note from Heavy Duty Tarps
Generally, any surface larger than about 57" cannot be made without a seam. Please let us know when you place your order if you have specific requirements in terms of seam placement.
---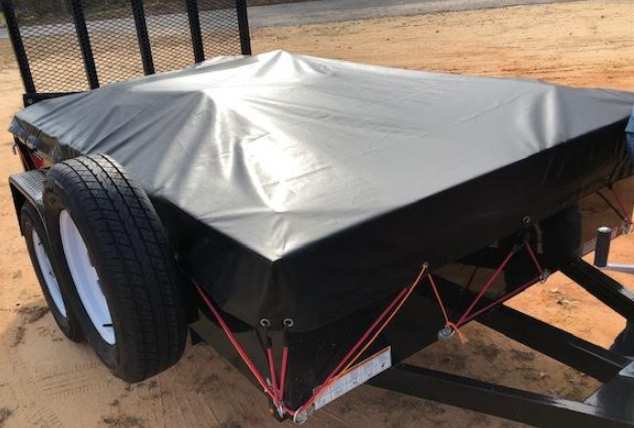 I am very happy with the tarp. What I did was make the back flap longer and tucked it in under the load in the back. There was a minor problem with the spare tire. I am sure we could tweak the design to make a "standard" tarp for Sure Trac utility trailer.
Regardless, it worked for my 1200 mile trip to Florida, including a day of rain, and nothing got wet.
Thanks for a great product. Well made and exact size with strong grommets.
Edgar Brannon
Milford Pennsylvania
---
The box tarp I bought is great. It's a little too big but that is because I think I gave you too big of a size. I wanted to make sure it fit. When the trailer is full and a little over the top edge's it fits great. When the trailer is empty it's a little big hanging over the sides. I just kind of fold it under. I may just order another smaller one and have two, one for when it's empty and one for when it's full. We'll see.
It is a very good product and your company did a great job.
Ralph Meisner
Waterford, Michigan
---
I love the product for my application. Pool privacy, wind break, steadfast color, durable all season continuous use, easy to install, and best of all great service, great price and prompt. Compliments from my neighbors as well as how nice it looks, blends in.
William Drever
Lynden, Ontario
---
The order I placed was EXACTLY to the specs I had included. The tarp material and workmanship was top notch. Unfortunately, my own measurement was off, which resulted in my tarp being unusable without alterations. If you measure correctly, you will get exactly what you need.
Charles Hunt
Clarksville, Tennessee
---
I got the tarp for an indoor hitting golf net as part of social isolation. Every step of the way from the design to the rechecking of all the variables and emails to confirm, I was very impressed. Received within one week or so of confirmation exactly as ordered. Very professional! No hesitation at all to reorder anything from HeavyDutyTarps!
H.T.
Richmond Hill, ON
---
I am enjoying my tarp. The tarp material & construction were heavier duty than I anticipated. I'm pleased -- The cost was very fair price for such a high quality product.
I requested over-size since I was planning to cut and stitch my own corners. Oops... I'm still able to cover all the desired parts -- just not as attractively as I'd hoped.
This doesn't diminish my satisfaction -- Utility is beauty!
Thanks again.
Kate Alley
Lake Oswego, Oregon
Note from Heavy Duty Tarps
Many of our solid vinyl material can't be sewn with a standard sewing machine.
---
We have made several tarp purchases and received top quality products along with amazing customer service. We will definitely continue to buy from Heavy Duty Tarps.
Melissa Lawton
Peter Lawton & Son Plumbing
London Ontario
---
I love my new tarps. One is used to cover my 5'x10' utility trailer (love the idea of not having to replace the old blue tarps every 2 trips to the cottage) and the other has been used as a slanted canopy to protect our zodiac that we keep up at the cottage. Both tarps are awesome- super durable and great value.
I would highly recommend to anyone who wants a tarp that will last and not break the bank. Great customer service to boot.
Jim Turpel
Niagara on the Lake
Ontario
---
The tarp is great quality. If I need another I'll be calling you.
Lieutenant Wayne Saunders
New Hampshire Fish & Game Department
Lancaster, NH
---
I have had the chance to use the tarp several times now and I must say, I am very pleased with the quality of the product. The tarp fits the trailer perfectly, the vinyl material is very durable and excellent quality and the grommets have held up in the winter elements.
I am so happy with my purchase, I recommended your services to my father-in-law who will be in contact with you soon to purchase a tarp for his new utility trailer.
Regards,
Newmarket, Ontario
Britton Stanbury
---
We just received our tarp from Heavy Duty Tarps and the tarp feels extremely durable and capable of performing the task we require it for. It was a pleasure doing business with you, if we require a tarp of any kind we know who to call.
Looking forward to utilizing your product again in the future.
Greg Moser
Project Coordinator, Stobie Mine (Sudbury)
Technica Mining
---
Excellent service. Very Helpful. Great Product.
Thanks,
Pauline
Port Perry Ontario
---
I received my tarps and installed them this past weekend, both of them fit great and look great. Thanks so much for the service, I will start on my next canopy soon.
Stephen Updike
Bridge City, Texas
---
I was very pleased with the products I purchased. They fit like a dream and thank you for including the pull through cord for then chain pockets. If there is one suggestion I could make is there any way for you to flame the hems on the mesh to eliminate the frayed threads. I did this with a blowtorch and it seemed to work well.
Cheers
Mike McConnell
Naramata, British Columbia
Mike was kind enough to send this photo of the shed curtains he installed.
---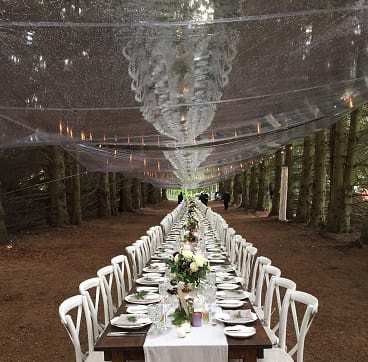 Thanks for coming through with the custom tarps last week. They kept 246 people dry during severe thunderstorms out in Grafton on Saturday.
I thought you might like to see how they were used!
Cynthia Martyn, Creative Director
Cynthia Martyn Fine Events
Thornhill Ontario
---
Being a contractor in the fast-paced and highly demanding industrial manufacturing sector; when our customers tell us to jump – we jump, and hope that our network of suppliers are on board with us. We recently did a mid-size, multi-faceted job for one of our key automotive customers. The work was to take place during production hours. The scope changed a number of times and each time we had to jump as quickly as possible to keep down-time to a minimum. Due to the excellent support from suppliers such as Heavy Duty Tarps, we were able to change and adapt in a very quick and safe fashion reducing down-time and thus saving both us and our customer substantial additional costs. They were very helpful!! In the post-project review, our customer noted how safe and efficiently the job had run and that we must have a solid network to rely on. Heavy Duty Tarps is a big part of that as they have proven time-and-time again that they are always there for us.
Thank you and everyone there for all your support!!
Craig Dubecki
Multi-Trade Sales & Marketing
AIM Industrial Multi-Trade Contractors
---
Tarps are working great. We will be ordering more as needed. I Really like the durability of the chip mesh. It holds up very well.

The 60% ones work really well also.

We cover our trailers and nursery stock with them. Even have a small one that covers wheelbarrows and tools in our truck bed.
Thanks Gerard
Benjamin Tree Farm
Waterloo, Ontario
---
After a lengthy North America wide search for the right tarp, the right size (oversized, custom), at the right price, we brought it back home and found a great place at our doorstep. Our order was easy to place, it was a good price, the turnaround time was fast, and it was delivered promptly. Also when I had questions about placing our order, customer service was easy to reach and quick to respond, which ultimately "sold" me on going ahead with the order, because of the large size and high cost of our order, I felt confident that I could easily reach someone if something went wrong.
Thank you Heavy Duty Tarps for helping us meet our business needs in a timely fashion.
Cris C
Soccer Fitness Inc.
---

Great to deal from start to finish. Tarp is exactly what I ordered and fits like a glove. If I ever need another tarp. I know who I will be calling.
Thank you very much Heavy Duty Tarps.
Julien Bouvier
Baynes Lake BC
More Testimonials