Factory Curtains and Warehouse Dividers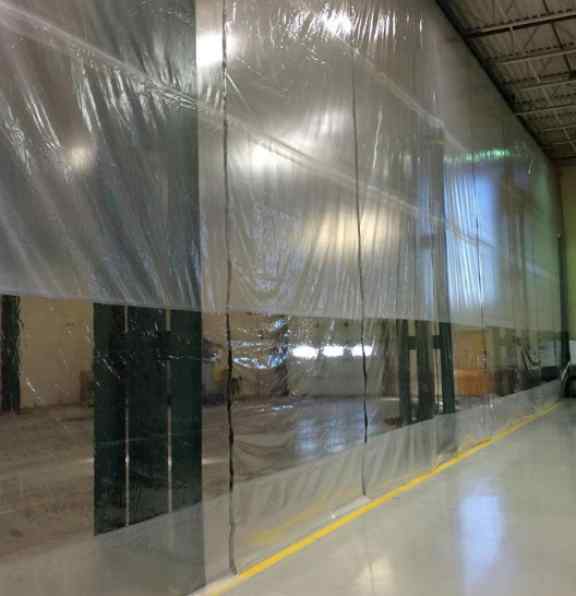 Heavy duty tarps make great room dividers and industrial curtains. Our tarps are often used to cordon off a portion of a factory or warehouse or to hide areas of a business from public view.
When tarps are hung indoors we recommend using a fire retardant tarp since most municipal building codes require FR materials to be used. For outdoor applications it is generally better to not use fire rated tarps since they cost more and tend not to contain the same level of UV protection as non-FR material.
When hanging tarps you need to consider how they will be fastened. This depends on a number of factors: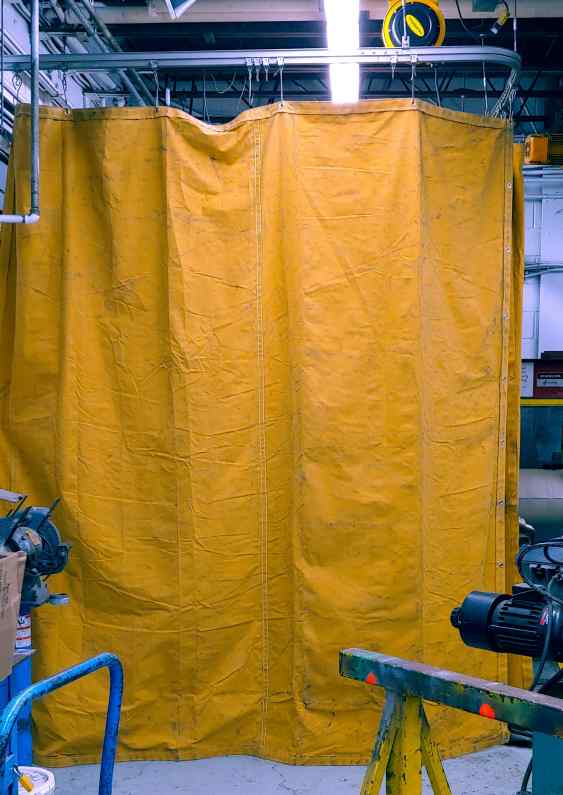 Will the curtains be stationary or do they need to slide?
What is the total weight of the tarp? This will determine how many fasteners you need and how strong they need to be.
Do you want to be able to remove the tarp on a regular basis? This will determine whether you use hooks or bolts/washers to fasten the curtains. For light weight applications shower curtain rings provide an inexpensive fastening method that allows fairly easy removal.
What sort of access is required to get in and out of the cordoned area? When access is required you may want to build the curtain in sections or introduce a zippered or Velcroed doorway.
How windy is the area being curtained off? For windy areas you might consider using a mesh curtain to allow some airflow or perhaps you want to add a pocket at the bottom of a solid vinyl curtain to insert a galvanized pipe or chain to weigh it down.
Is it necessary to see through the divider or is the divider intended to block visibility? We can add windows to a solid curtain making it possible to see what's behind the curtain while still blocking off most visibility.
Is it important that the divider does not block off light? Our reinforced clear material lets most of the light through will obfuscating visibility.
Do you want air to flow through the barrier? Using mesh to make your curtain or adding mesh windows to a solid curtain will allow heat and air conditioning to pass through the barrier.
Is there going to be welding in the area? We can make curtains or windows out of welding curtain material to provide UV light protection.
Do you want your curtain to easily slide? We can supply industrial curtain tracking and rollers.
You may also be interested in our Wash Bay Tarps.
Order a curtain tarp.
Curtain Tarp Testimonials
Location:
St. Marys, Ontario
Rating:
Excellent

Comments: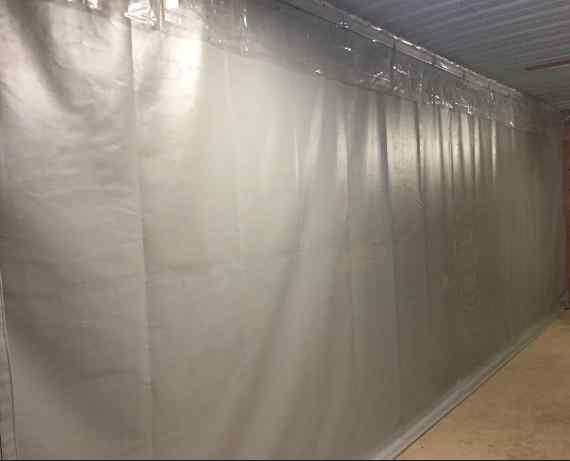 Two 18oz FR used to divide garage. Hooks and grommets to fold back opening up area in summer were placed exactly as requested. Length with 4" fold works perfectly for sealing off the areas.