Swingset Covers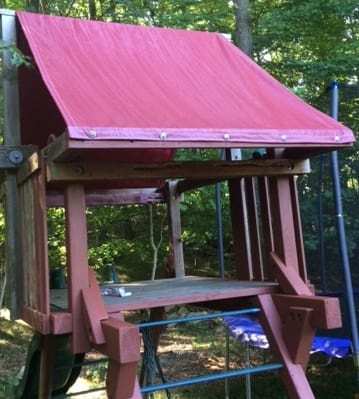 If you have a swing set or play area for your children it is a good idea to cover this with a heavy duty tarp. A cover will protect your kids from getting sun burned as they play and will help keep them cool. The tarp will also prolong the life of the wood and finish by protecting it from harmful UV rays.
If you want protection from the rain you will generally use an 18 oz solid vinyl material like the one pictured here. If you want to allow dappled sunlight to get through, and it is not important to be waterproof, you could also go with a 90% mesh cover.
If there is no suitable location on the play set to affix a cover, consider hanging a tarp from nearby trees to provide shade. If you are suspending a waterproof tarp, you should angle it in such a way that rain water does not pool on the tarp.
Our tarps are also well suited for making something perfectly sized to cover a sandbox.
Play Area Tarp Testimonials
Location:
Oshawa, Ontario
Rating:
Excellent

Comments:
Excellent product and delivered within the alloted time line. I was impressed and will be placing another order soon.