Sandbox Covers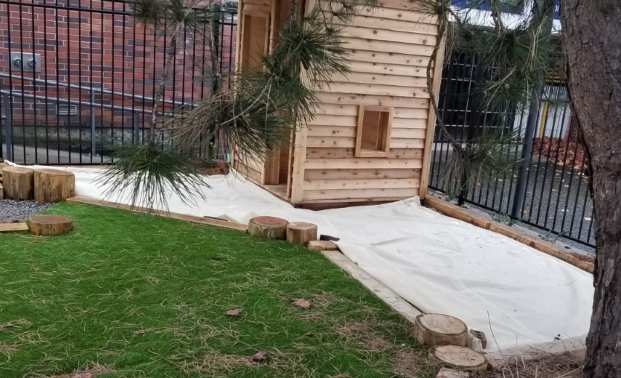 If neighbourhood cats are using your child's sandbox as a kitty litter box you will want to make sure it is covered to keep your kids safe from bacteria. In most cases it does not matter that the sand gets wet when it rains so covering it with a mesh tarp is normally the preferred option. This lets the rain seep through while at the same time keeping animals out.
You might even consider having the cover double as a shade tarp when children are playing in the sandbox. To do this you could build some sort of frame above the sandbox that you could hang a 90% block mesh tarp on when the kids are playing.
If you want to keep the sand dry, you should go with a solid vinyl tarp. In this case you will need a strategy to prevent rainwater from pooling inside the cover. If you are just covering a sand hill, this should not be a problem but if there is an actual sand box, with sides, then water pooling is something you will need to consider. The solution shown below is ideal in that having a roof on the sandbox will not only keep the area dry but it will also offer shade to your children to help keep them from getting sunburned.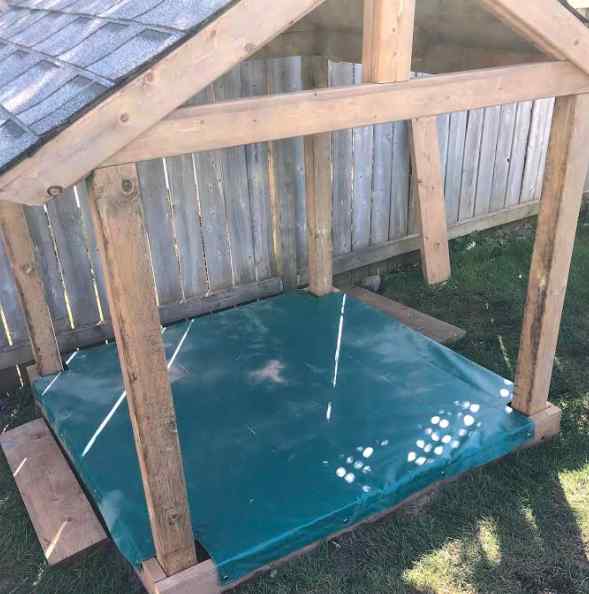 Notice this cover uses a "fitted tarp" whereby the corners are cut out. This can be ordered using our online complex tarp order form. In this case you would set the size of the top to be the distance between the support posts. The "height" of the tarp would be calculated to be the distance from the inside corner of one of the support posts to about three inches down the side of the sandbox. You will also need to set the option which specifies that "All sides should be flaps" (as opposed to sewn corners).
The lower photo of the blue sand box tarp is using our 60% premium mesh material. Mesh is ideal for this type of setup since the rain water will filter through rather than filling up like a swimming pool. Mesh is also better in the sense that dry sand cannot be shaped the way wet sand can so your kids will actually prefer playing in the sandbox when the sand is damp. If you really want to use a solid vinyl material you will need to come up with a solution to prevent water from pooling. One idea would be to have a grommet hole added to the centre of the tarp so that water can drain. Otherwise, this pooled water can become stagnant and full of bacterial organisms.
Depending on the wind conditions where the sandbox is located and the type of material you use, you may or may not need special fasteners to keep the cover from blowing off. To be safe you might want to add a grommet in each corner so you can secure it with tent pegs. If you have an actual box, you can also add snaps that can fasten into the sides of the sandbox. Another option is to add pockets on either side of the tarp where you could insert chains to help weigh it down.
I recently learned that sandboxes have come a long way since I was a kid. Someone ordered a cover for an "Augmented Reality Sandbox". This piqued my interest and so I did a little research and found a Youtube video which describes these. It is actually pretty cool so if you are interested in top maps and elevation lines be sure to check out this Augmented Reality Sandbox video. You may also be interested in our play area covers.
Sandbox Cover Testimonials
Rating:
Excellent

Comments: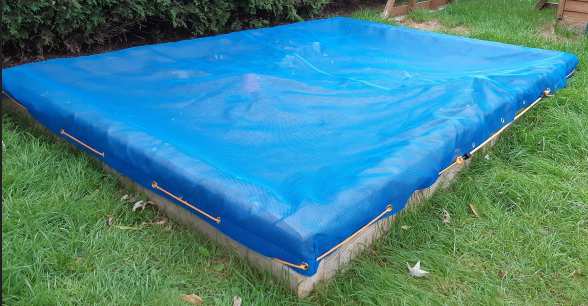 It fits perfectly over our kid's sandbox, we followed the suggestion and added a bit of extra inches to each side so it has wiggle room to slip back on without any hassle. I definitely recommend this company. When I called for advice about which tarp would be best, I got straight forward answers to my questions, so simple.
---
Location:
Cornwall, Ontario
Rating:
Excellent

Comments:
Great service and product. Kept me informed and felt like I was dealing with them in person rather than the internet or via e-mail. Very personal and friendly. One of the best online purchasing experiences I have ever had.