Toronto Tarp Testimonials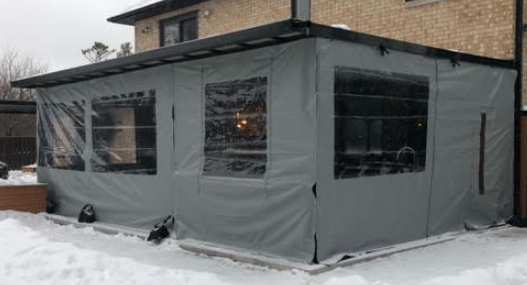 I received and install the balance of the tarps. It all looks great. I want to thank you and your staff for helping me with this project it was first time I ordered and installed a tarp as a "tent". Theresa was very helpful with all the design changes. And then with the small mistake there were 2 changes to be made on the new pcs that where not charged to me.
I just wanted to reach out to let you know how professional Heavy Duty Tarps staff and product are.
Thanks again
Anthony Marano
---
I have been meaning to follow up with you with regards to the tarp you made for me to cover my outdoor furniture. It is absolutely fabulous… Love it!! I am very impressed with the quality of the chosen material and workmanship. Easy on, easy off. Great job.

Thank You!
Frank Volpe
Toronto, Ontario
---
Everything worked out perfectly. Amazing service, great product and your website is very easy navigate and place orders. Thank you very much.
Best of health,
Joshua Wasserzug
Toronto, Ontario
---
Take a look at how great the tarp came out!! We really love it and need another one for a smaller area asap.
Joel Gerson
Revolution Fitness MMA and Crossfit
Toronto Ontario
Visit our blog to see a photo of this multi-color gym floor tarp.
---
Location:
Toronto, Ontario
Rating:
Excellent

Comments:
Value for money. The product was high quality, well packaged and came earlier than promised. More expensive than others I had quoted but those products came from China and India. This was made in Canada and I wanted to support Canadian.
---
Location:
Toronto, Ontario
Rating:
Excellent

Comments:
I do not normally provide product reviews. However, I am making an exception. Their service was excellent, in a world where good service is rare. Their product quality is excellent, it a world where it is increasingly difficult to find top quality products at fair value. Next time I need a really good tarp I will gladly buy from HeavyDutyTarps
---
Location:
Toronto, Ontario
Rating:
Excellent

Comments: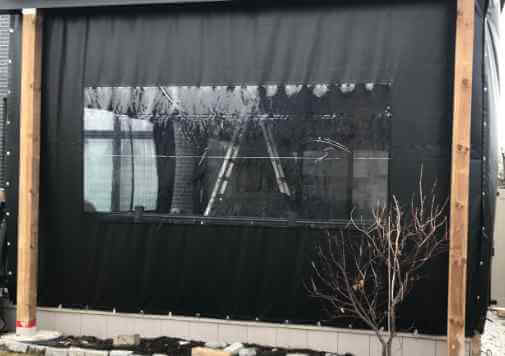 From the beginning to end Jim was patient and helpful in creating a tarp that would work for me. Even when finished and delivered I had an issue with one side but right away Jim and his team were on it to get it resolved and to make me happy and they did. I strongly advise anyone looking for a company to build them a tarp for home or business this is the company you want to deal with. Again I had a smooth transaction from begin to end. Thanks for a great job guys.