Custom Tarps
At Heavy Duty Tarps, about 90% of our business is making custom tarps. We ship all across North America and no job is too big or too small. Whether we are making a little tarp to fit a utility trailer or a huge tarp to cover a soccer field we take great pride in producing a high quality product. Here we list some of the characteristics that define what we mean by custom tarps.
Non-Standard Sizes
Even if you order a popular tarp size this will be hand made just for you so there is no advantage to ordering say a 10' x 10' tarp versus 9' 5½" x 10' 3" (or whatever size works perfectly for your application). Therefore, before placing your order be sure to take accurate measurements of what you plan to cover so that you order the exact size that you need. If you are not sure what size of tarp will work best for your application please follow this link about Determining the Correct Tarp Size.
Special Shapes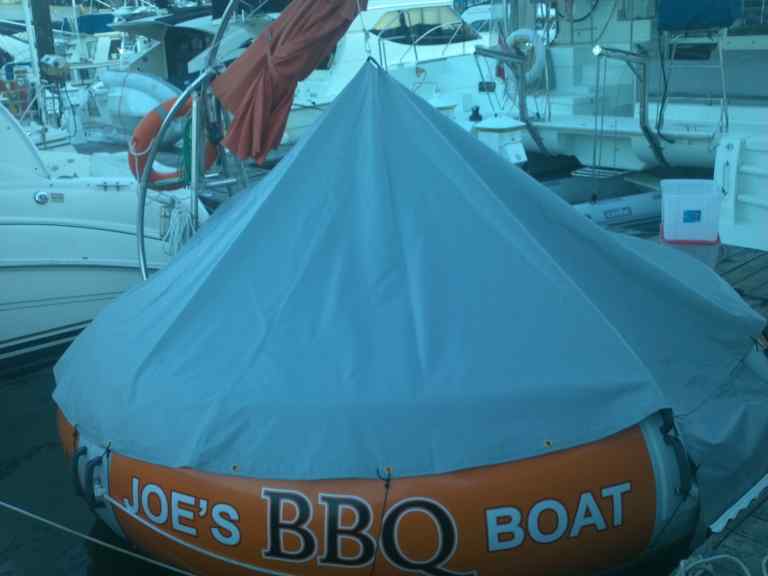 We can make round tarps, octagon tarps, triangular tarps or just about any shape that you might need. Here we show a cone shaped custom tarp with a side flap that we built recently to keep the rain out of a circular boat in Vancouver.

When pricing special shapes we usually have to start by making a square or rectangular tarp then we cut the shape out of this. Therefore the minimum price can be calculated by obtaining a quote for the smallest rectangle needed to make your shape. Depending on how complex the final shape is, there may be extra charges to account for the time needed to measure and cut the shape that you require.
Our round tarps are often used to keep the pitching mound on baseball diamonds dry.
Large Tarps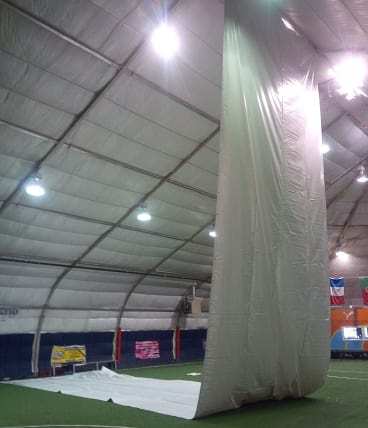 We are able to make very large industrial tarps in any size or shape required. Obviously, the larger the tarp the heavier it is so always check to make sure that the tarp you wish to order is not too heavy for you to handle. When you obtain an online quote for your desired tarp size we provide an estimate for the total weight of the tarp. When choosing your material, for solid vinyl tarps, 18 oz material is a good starting point. If the total weight of the tarp in 18 oz material is more than you can handle consider going with a 14 oz material or even an all-purpose tarp if necessary to keep the weight manageable. Learn more about ordering very large tarps.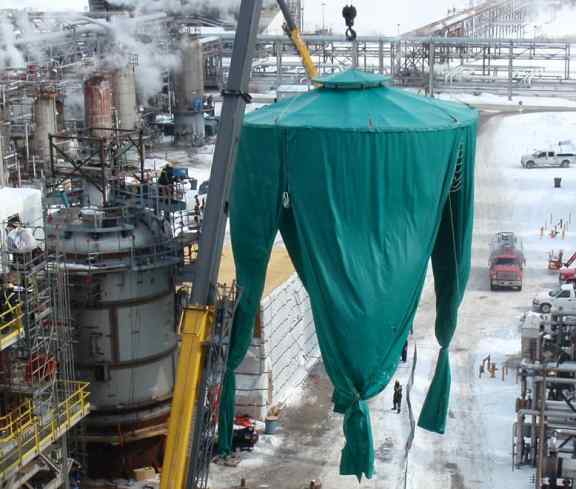 Combining Different Materials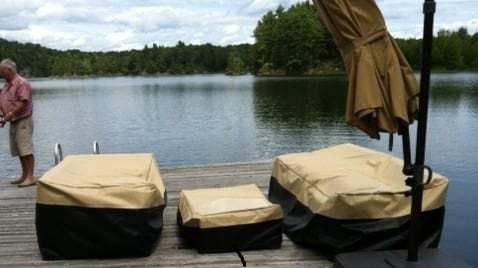 Sometimes it makes sense to weld two or more different materials together to create the ideal tarp. Here we show how we have combined our solid vinyl material with our mesh material to create a custom tarp that is waterproof while still allowing air flow to prevent mould. Learn more about our outdoor furniture covers.
Another example of this is when solid tarps are used to close in a porch or as a wind barrier. You might want to consider welding a clear vinyl window into the solid tarp to let some light through or to provide visibility.
Precise Grommet Spacing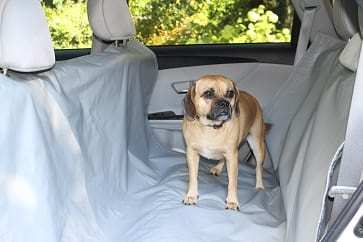 Sometimes it is important that the grommets in your tarp exactly line up with pre-existing hooks or fasteners. We can usually accommodate whatever grommet spacing you require. To space grommets at specific points use a tape measure starting from where the edge of the tarp would be and record the distance to the centre of each grommet. Include these distances in the comments field when you place your order. Here we show a custom tarp that we made to protect a car seat from dog hair and foot prints. In this case, the grommets exactly align with the headrest holes in the front and back seats to form a sling that can be easily installed and removed as needed.

Special Fasteners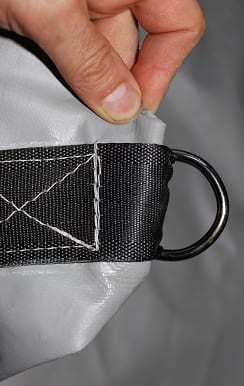 Our most common fastening method is to add grommets (stainless steel reinforced holes) around the perimeter of the tarp but we offer lots of other fastening options including D-Rings (shown here), Velcro, marine snaps and "common sense" (twist lock) fasteners. Even gravity can be used as a securing method (we actually add channels on the edges of the tarp where you can add a bar or other weight - see pockets below). Learn more about our tarp fasteners.
Learn more about tarps with zippers.
Pockets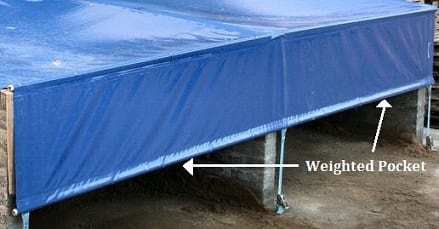 Sometimes it may not be possible or convenient to use grommets or some other fastener on the lower edge of your custom tarp. In such cases, your best option might be to install a pocket or channel on the edge of the tarp so that you can weigh this edge down by inserting a bar or 2x4 into the pocket. Another use for pockets is to enable rolling mechanisms such as those used on truck roll tarp systems or custom roll doors.
Another common requirement involves adding cut-outs to tarps to accommodate obstructions, learn about tarps with flaps.
Tarps with Windows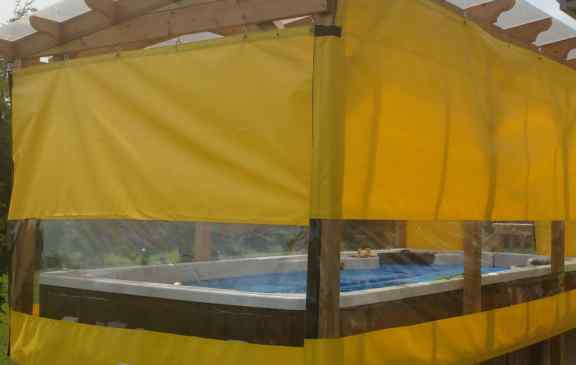 Clear tarps are not as strong a solid tarps so if you don't need transparency it is best to go with a solid vinyl material. Sometimes you need a combination of clear and solid, we can add long clear panels as we show here or simply add small windows to let a little bit of light through or allow you to look out through your tarp.
The Sky's the Limit
There is almost nothing our team can't do so if you can imagine it we can likely build it. Whenever possible, please provide detailed drawings with the exact shapes and measurements you need. Computerized drawings are ideal but we can also work with hand drawings or sketches that lay out your custom tarp specifications.
Custom Tarp Testimonials
Location:
Kingston Ontario
Rating:
Excellent

Comments:
Excellent quality tarps and constructed to exact requested measurements and colours every time. Pricing is very good. These are the go to guys for heavy tarps.

Metal Craft Marine