Grommets and Fasteners
Standard Stainless Steel Grommets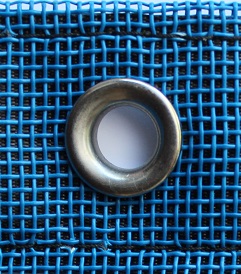 Most of our tarps ship with standard stainless steel grommets. These have a hole size that is 7/16" and an outer diameter of 7/8". There is no extra charge for a reasonable number of grommets per tarp. For grommet spacing of less than about 18" apart, we charge $0.75 per extra grommet.
Larger Stainless Steel Grommets
These grommets should be requested if you need a larger hole size than our standard grommets. These have a hole size of 9/16" and an outer diameter of 1". These are priced the same as our standard grommets.
D-Rings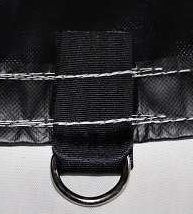 D-Rings can be used instead of grommets at a cost of $2 per D-Ring. These are normally sewn such that they overhang the edge of the tarp so that they are sewn into the seat belt webbing. They can also be set back if requested. Be sure to specify if you have a preference.
Marine Snaps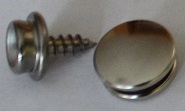 Snaps can be installed at a cost of $1 per snap. Snaps can be problematic in colder climates since the snap base does not expand/contract at the same rate as the snap button. When installing snaps on your tarp, we will send you the snap base to screw into a wooden structure. We also have bases that consist of just a hole if you want to bolt this onto a metal frame or some other surface. Be sure to let us know if you don't want the screw type.
Common Sense Fasteners

Common Sense Fasteners can be installed at a cost of $4 per fastener. These allow for fast installation and removal of your tarp without the temperature sensitivity of snaps. If you are considering Common Sense Fasteners, please review this blog post that discusses some quick release fastener ideas that work with standard grommets.
Weighted Hem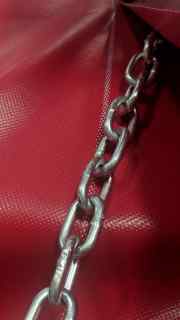 Sometimes tarps are needed where it is either inconvenient to use traditional fasteners or there is nothing to fasten the tarp to. In such cases we can sew a 3/16" chain into the hem of the tarp to keep it from blowing away. This is often done on pitching mound tarps where it would be dangerous to use spikes or other fasteners. The cost of this option is $2.25/ft.
Pockets/Sleeves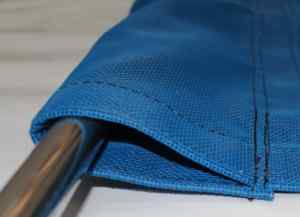 Pockets can be sewn into the hem to allow you to insert your own bar or chain into the pocket either to suspend the tarp or to weigh it down. For more information about pockets please visit our pocket sizing page.