Grey Vinyl Tarps
Grey is a nice neutral colour suitable for a wide variety of applications. As a light colour it reflects the sun well, yet since it is not as light as white, it is easier to keep clean and does not show the dirt as much. Grey is often associated with elegance, sophistication, and a modern look. Grey tarps can enhance the overall aesthetics of spaces like patios, outdoor areas, and camping sites. Grey tarps are commonly used in commercial settings due to their professional appearance.
Shade Covers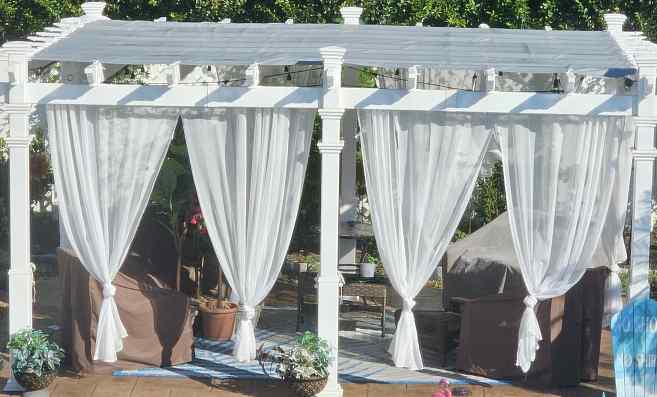 This pagoda features a grey 18 oz vinyl tarp across the top. This provides shade while keeping the interior of the structure dry. When using tarps on top of a frame such as this, consider how rain water will shed. Ideally, the upper frame should be angled to a certain extent so that rain water flows to one side rather than pooling in the middle. You could also have your structure peak in the middle so water drains to either side.
Vinyl will shrink slightly over time so try to order your tarp large enough to allow for a couple of inches of shrinkage. The actual shrinkage with depend on the size of the tarp as well as temperature conditions.
If you don't use your pagoda year round, consider taking the tarp down in the off season and storing it out of the elements. This will extend its life and protect it from weather damage during the winter.
Trailer Awning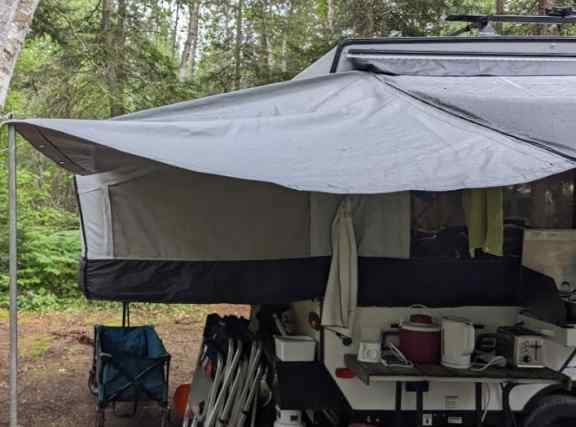 If your trailer or RV has a track to accept an awning, we can sew a welt into a replacement awning that will allow the tarp to slide into your existing track. Generally, the opposite edge of the awning will have grommets which will accept the end of a pole that is used to support the outer edge. We can also sew sides onto the awning to "add a room" to the outside of your travel trailer. Sides could be made using screening or solid vinyl or a combination of both.
If you keep your travel trailer outside, you should have this tarped when it is not in use. Follow this link to learn about protecting your RV from water damage.
Shed Covers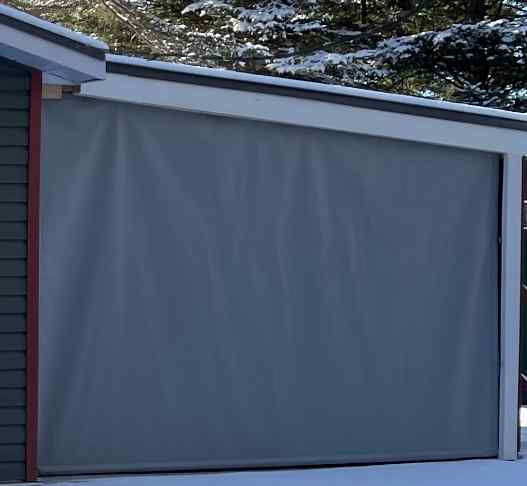 Another common application for grey tarps is to cover the sides of open sheds, such as wood sheds. This will prevent rain from getting into the shed while also making it possible to open up the tarped side for loading or unloading.
Size the tarp so that it almost reaches the ground but not quite. If the lower edge touches the ground it will tend to wear as this edge blows across the surface, especially if the ground is covered in gravel or other abrasive material.
Make sure the bottom of the shed drains well so that you don't have water pooling onto the lower edge of the tarp which, when frozen, could prevent the opening from being accessed.
You will need to decide how you want to fasten the tarp to the shed. Read this post to learn about easy ways to fasten a tarp using standard grommets.
One of the advantages of ordering a custom tarp is that it can be sized to your exact specification. Notice that the tarp pictured here is not rectangular, but rather, is longer on one edge than the opposite edge. For this type of irregular shape, it is best to send us a sketch of your tarp's outline, including the length of each side, so that we can quote it. Generally, the tarp needs to have at least one right-angle to ensure that we can match your specification.
Enclosed Patios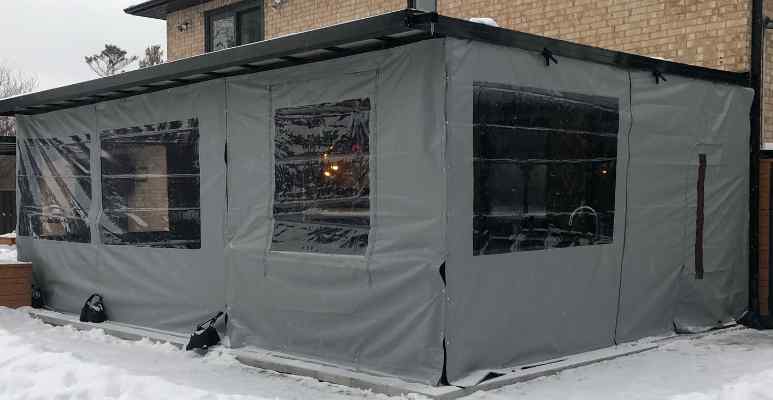 In Canada and much of the northern USA, we are lucky if we can use our patio for six-months of the year. Why not extend the outdoor season by enclosing your deck in high-quality tarps?
As you can see in this photo, it is possible to add windows and zippered doors to your enclosures. Windows can be made of waterproof vinyl or they could also be screens to allow air-flow while keeping out the bugs.
We can even design the sides so that they roll up during the summer months or on warm days. Visit this page to see an example of transparent roll-up tarps.
Another example of a tarped enclosure is a DIY Sukkah used to celebrate the Jewish festival of Sukkot.
Roll-up Doors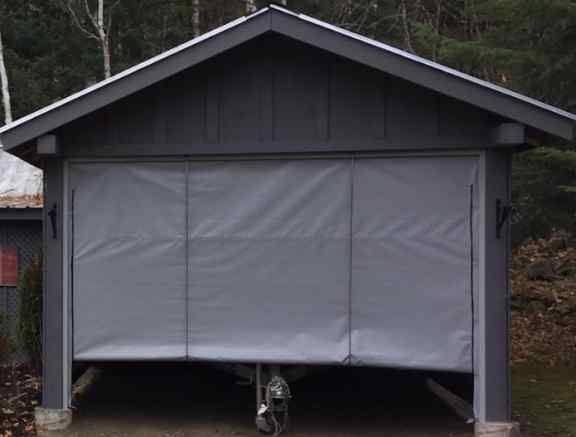 Grey tarps are commonly used for roll-up garage or barn doors. We don't supply the roll-up mechanism but this is fairly easy to build using standard rope and pulleys. There are two main configurations for roll-up doors:
One in which the entire tarp rolls up.
One where the tarp is zippered on either side, and the sides stay attached to the outer walls and only the part of the tarp inside the zippers rolls up.
Visit this link to learn more about DIY roll-up doors.
Trailer Covers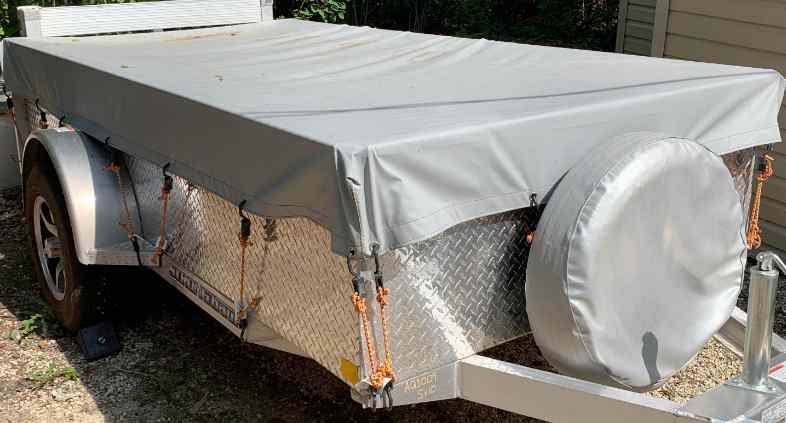 Trailer covers are one of our most-requested tarp applications. There are two main styles of trailer covers:
Fitted covers, shaped like a box top with sewn corners.
Normal rectangular flat tarps that wrap the top of the trailer.
The option you choose depends on your needs and preference.
As shown in the photo, we can make matching spare tire covers to give your trailer a professional look. Sometimes fenders, tail lights or other obstacles may impede the installation of your cover. We can integrate cut-outs and slits to work arounds these impediments. Visit this link to learn more about utility trailer tarps.
Boat Covers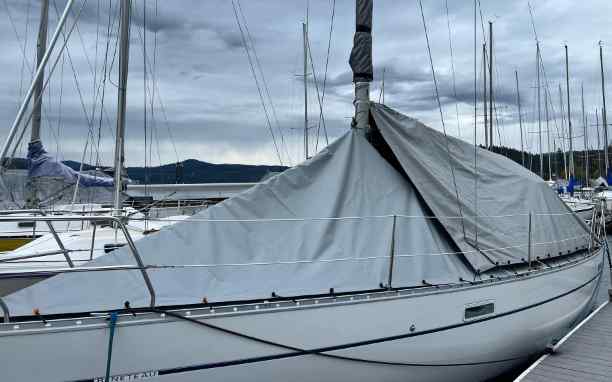 Grey is an excellent colour to use to cover your boat since it does not absorb the heat the way darker covers will. Boats often have masts and other impediments that can make it difficult to create a waterproof cover. We can design slits and Velcro into your tarp to create a good seal and prevent most of the rain water from getting onto your craft. Unlike shrink-wrap, which needs to be repurchased every year, a well-designed and secured tarp can be used year after year for up to a decade.
Don't wait until the fall to order your boat cover since these can take a while to make, depending on the size and complexity.
Industrial Tarps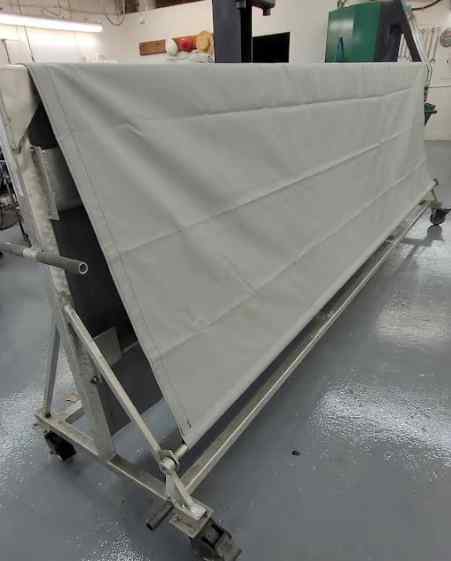 Grey tarps are often requested for business, commercial and industrial applications. If you are in need of a very large tarp, it is a good idea to use our online quite form to get an idea of the price and weight of your tarp. Sometimes it makes sense to split large tarps into sections so that they can be more manageable. We can design a versatile set of roofing tarps that can be used for a wide variety of applications. Unlike poly tarps, that flap in the wind and are easily destroyed or blown off, our heavy duty vinyl tarps stay put to keep the water out of your project, even under windy conditions.
If you are considering a grey tarps for your project, give us a call and we will make sure you get exactly what you need.