Green Vinyl Tarps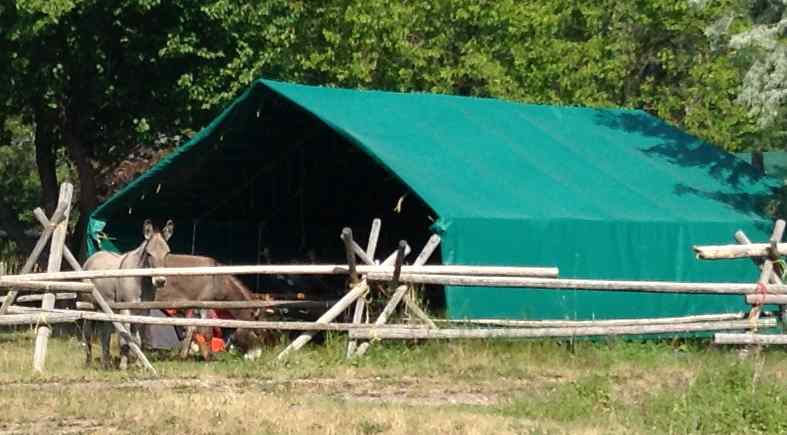 Green tarps tend to blend well with outdoor environments, especially on well-treed properties. In this first photo, a large tarp provides shade and shelter to a group of livestock. The end panel could be closed off in the winter to help keep the enclosure warmer. Barn-like structures such as this can also be used to store farm implements, hay and and other supplies to protect them from rain and snow. As with all of our tarps, our green tarps contain UV protection helping to protect them from fading and sun damage.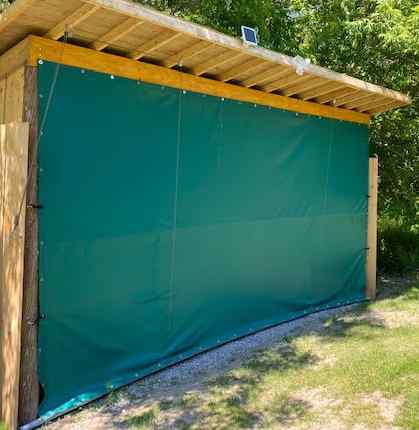 In this photo, a green tarp is used to cover the opening to a wood shed to keep the wood dry. Using a tarp instead of a solid wall makes it easy to gain access across the length of the structure. Our customer installed a roll-up door to make it easy to roll the tarp up when new loads of wood are delivered. Our vinyl tarp material is mold and mildew resistent even under humid or damp conditions.
Green Pergola Covers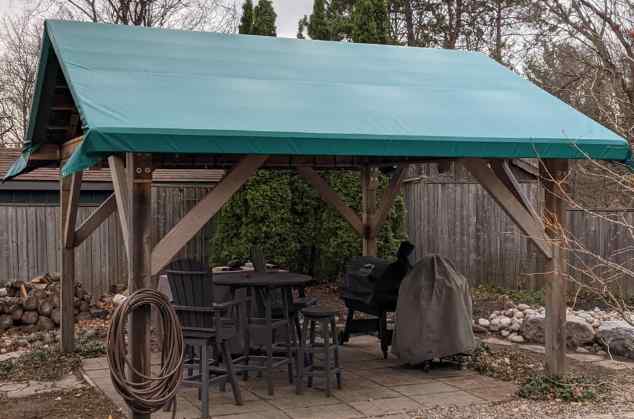 Here we see that a green 18 oz vinyl tarp has been used to cover a pergola providing a sheltered area for outdoor dining and barbequing. By keeping outdoor furniture dry, the waterproof covering helps to extend its life. This is also true of the the wooden pergola itself. It won't need to be stained as often as it would if it was exposed to sun and rain.
Car Ports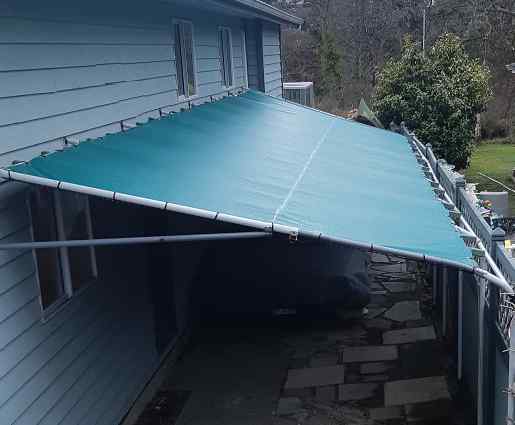 This lean-to is used to create a dry area for use as a car-port. Cars also tend to deteriorate faster when exposed to the elements. A high quality tarp that can extend the life of your vehicle, even for a single year, would more than pay for itself. Not to mention the convenience of avoiding having to clear the snow off of your car in the winter.
Fastening Options

This photo shows what's known as a reef band. Reef bands are used to add grommets to the interior of a tarp. To learn more visit our reef bands page.
While grommets are the most popular fastening option, there are times when other fasteners may work better for your application. Here we see that D-Rings can be used as fasteners instead of grommets. Visit this link to learn about all of our tarp fastening options.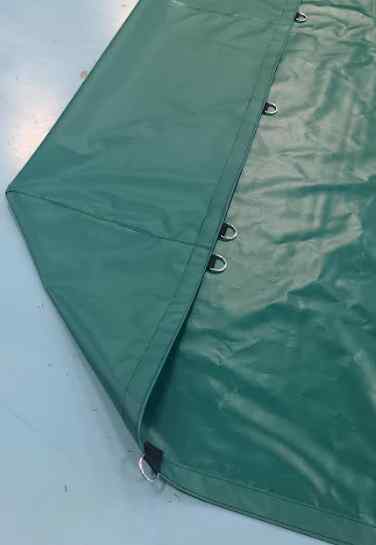 Industrial Tarps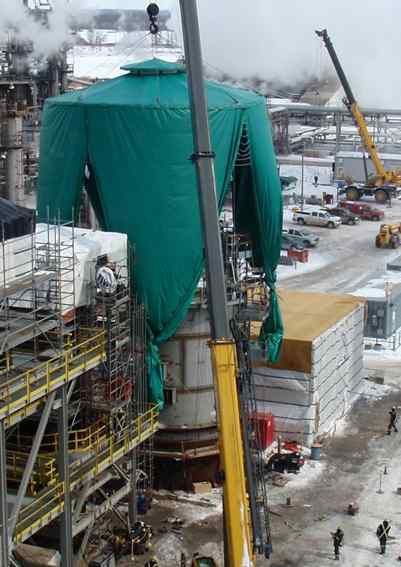 At Heavy Duty Tarps, we cater to all types of customers including home owners, farmers, truckers, landscapers and municipalities. We pride ourselves in being able to serve both small and large customers in a timely and professional manner. Here is an example a large tarp we made for an oil refinery. It was so large it needed to be elevated with a crane.
You may also be interested in a grey tarp.