Chicken Coop Tarps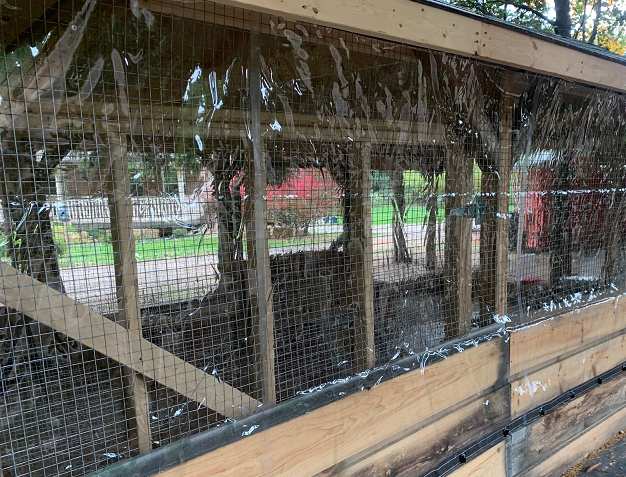 Heavy Duty Tarps can play a vital role in maintaining a good environment for your chickens to roost year round. Chickens enjoy an "open air" fenced setting during warm seasons since this provides optimal air flow and ventilation to prevent the chicken coop from getting too hot in the summer. On the other hand, chicken wire alone does not provide any protection from the elements during harsh winter weather.
By designing tarps to cover some of the wired areas of your chicken coop or hen house you can cut down on the wind and raise the winter temperature of the coop. Chickens like to have lots of natural light so you will want at least some of the tarps to be made from or 20 mil transparent tarp material. Nevertheless, this material is not as strong or durable as our solid vinyl material so you should consider using solid material in areas where maximum lighting is not essential. You can even combine these two materials in a single tarp by adding clear vinyl windows within solid 18 oz vinyl tarps.
Be sure to keep in mind that chicken coops need to be well ventilated, even in the winter, so make sure that you do not completely enclose your coop in tarps. You will want to keep some areas open to provide sufficient air flow and ventilation. Venting areas should be strategically located so as not to expose your chickens to drafts. Instead of using clear vinyl windows in some areas you can also incorporate some windows made from our mesh tarp material in order to improve air circulation.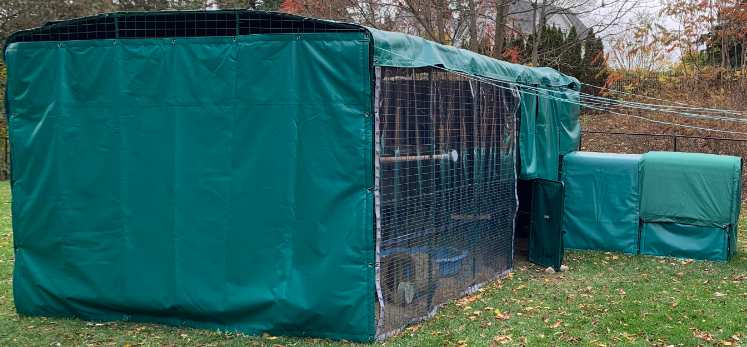 You can see in this second example, that the upper ends of the hen house have been left open to improve ventilation. This hen house also has separate roosting/sleeping area that is enclosed with insulated tarps to provide a little more warmth on really colds days. Since tarps are also used to cover the roof area you will need to ensure that this is well supported and angled to promote rainwater runoff and won't collapse in the event of snow build up.
Chicken Coop Tarp Testimonials
Location:
Scotland, Ontario
Rating:
Excellent

Comments:
Transparent custom sized tarps for my chicken run to prevent the cold Ontario winter wind from biting into them while outside. Well made. Let's hope they last many winters!
---
Location:
Hamilton, Ontario
Rating:
Excellent

Comments:
I am thrilled with all of the various tarps I ordered to winterize my new chicken run. I received everything quickly, and the items seem to be of the highest quality.
---
Location:
Granville Ferry, Nova Scotia
Rating:
Excellent

Comments: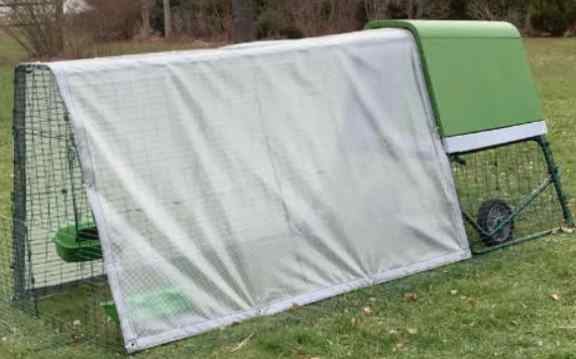 I'm using a clear reinforced tarp to cover the wire mesh on my chicken run. It works perfectly to shelter the hens from wind, rain, and snow, but still lets light through. The fit was perfect, and it feels nice and sturdy. I couldn't be happier with my purchase!
---
Location:
Wichita Falls, Texas
Rating:
Excellent

Comments: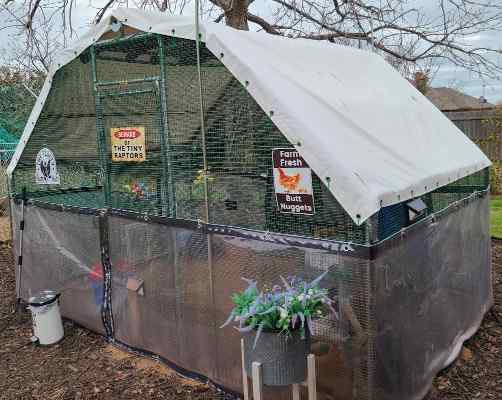 I love your products. The first order was the clear tarps, and I use them around the bottom half of my chicken run. My second order was the white tarp, which I used as a cover for my chicken run, when the old tarp (that came with the pen) ripped.