Privacy Fencing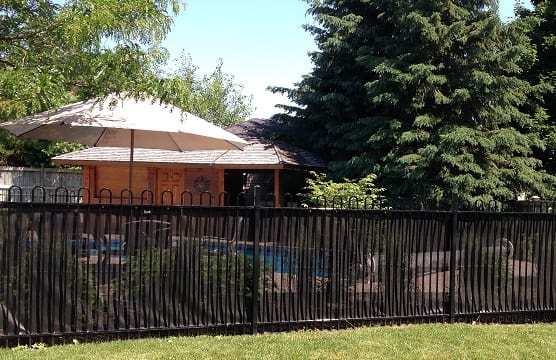 If you have a chain link or other see through fencing around your property or deck railings that neighbours can see through you can increase the privacy level of your existing structure by cladding your fence or railing with our privacy mesh material. Generally you will want to go with the 90% mesh for privacy applications. In addition to reducing visibility, these tarps will also provide protection from the wind and help keep leaves and other debris out of your pool area.
Our privacy mesh is UV coated to be durable in the sun and it protects the coatings on your fencing from harsh UV rays so you don't need to stain your wooden fences as often.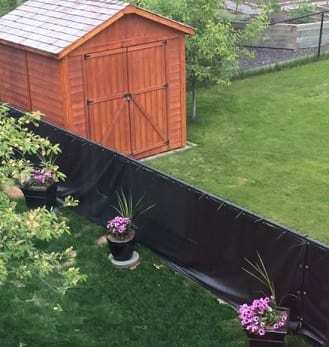 It is important to note that even our 90% screen mesh (shown above) does not provide complete privacy since it is possible to see through the mesh material. Don't expect a 90% reduction in visibility, this will depend on the lighting conditions (as described below) and on bright days significant visibility will be possible. To obtain full privacy you would need to go with a solid vinyl tarp covering as is shown in the second photo. There is some risk in adding a solid material to fences because of the wind stress this adds to the fence, but this is really your only option if you want 100% privacy. The degree of risk depends on how solid/heavy duty your fence is and the wind conditions where the fence is situated. If you want to go with solid vinyl we recommend cutting wind flaps into the tarp to allow for some air flow. This is recommended whenever you are covering chain link fences with solid vinyl. Because conditions vary, Heavy Duty Tarps does not assume any liability for structural problems caused by adding our tarps to fences.
We allow you to add as many grommets as you need to each edge so you can securely fasten the privacy screens even in windy environments. For tall fences, say over 6 feet, you should consider adding a "reef band" along the middle of the tarp. This is an internal grommeted seam that allows you to fasten the fence screening in the middle of the fence (in addition to the top and bottom).
Sun Block Options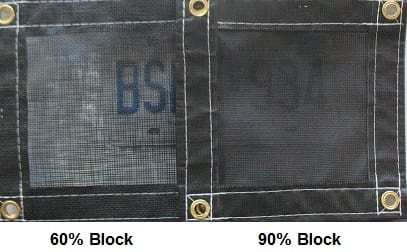 This image illustrates the difference between 60% block mesh and 90% block mesh (positioned in front of a licence plate). For most shade and privacy applications you will likely want to utilize the 90% block material. In very windy locations, the 60% block mesh will be less affected by wind conditions since it lets more air flow through but it won't provide much shade or privacy.
It should be noted that 90% block does not necessarily mean that there will only be 10% visibility. The amount of visibility depends heavily on the background lighting. You, or someone you know, may have walked right into a screen door on a bright day. Somehow your brain can filter out the screen and focus on the subjects behind the screen.
Here is an example of the same 90% (Super Heavy Duty) mesh tarp viewed from opposite directions. The photo which includes hanging bicycles on the right side shows the visibility of the mesh when set in front of a bright background. The photo on the right shows the identical tarp viewed from the other side. Notice that you can still make out the hanging bicycles (on the left) but they are mostly concealed by the mesh.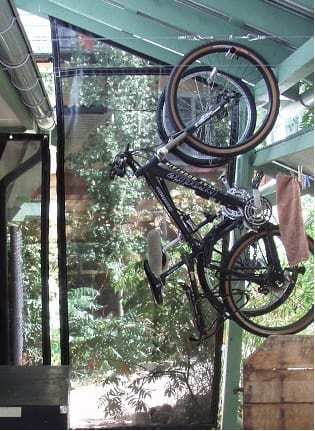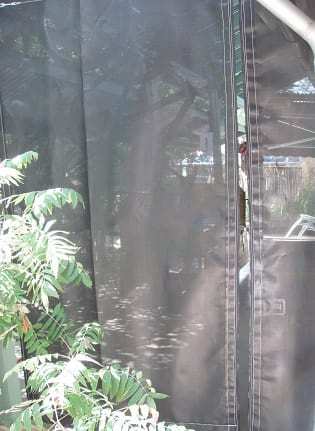 Now look at the photo below, this shows the same 90% mesh with a completely dark background. In this case the material appears to be solid since you can't discern anything behind the tarp.
To order a tarp to be used to add privacy please visit our privacy tarp order form.
You might also be interested in Gate Tarps.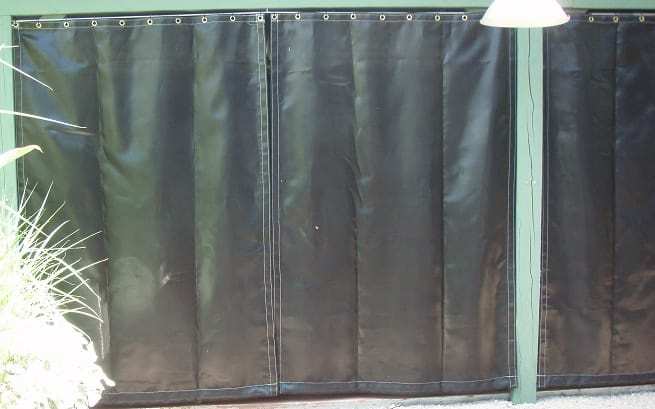 Privacy Screen Testimonials
Location:
Lucknow, Ontario
Rating:
Excellent

Comments:
We wanted a higher level of privacy from our neighbours. The 90% mesh tarp provides us with the results we wanted. The measurements were spot on for our needs.

Thank you!
---
Rating:
Excellent

Comments:
Bought a custom privacy tarp (90%) as a temporary barrier while I get some backyard landscaping sorted out (my yard faces the street). Came exactly as I measured and fits the chain link fence perfectly. Several neighbors have said it looks great and is a perfect idea - Heavy Duty Tarps will make you look smart! This thing is tough as nails and will last forever. Very happy with my purchase.