Gazebo covers and screening
Whether you are looking for replacement screening for your gazebo or if you want a solid cover so that you can use your gazebo to protect your patio furniture over the winter we've got whatever side panels you need to make your gazebo more versatile.
Our 60% mesh screen keeps the mosquitoes out and lets the breeze come in. This vinyl coated mesh is UV protected and is much more durable than typical screening.
When contemplating a cover for your gazebo it is important to consider your main reasons for wanting a cover. Here are some different materials that you could use depending on why you want to cover your gazebo.
If you mainly want to keep out mosquitoes while allowing maximum breeze, our 60% mesh product would be a good choice.
In addition to mosquitoes, if you also want to block some of the wind and provide some shade, our 90% premium mesh would work well.
If you want to keep out both the wind and the rain you pretty well need to go with a vinyl product. Solid vinyl would block visibility and offer the maximum privacy while our clear vinyl would let in lots of light while blocking the wind and the rain.
It is not necessary to use the same material on all four sides. Perhaps you might want to use a solid vinyl only on the side that gets most of the sun in order to provide some shade while using one of the mesh materials on the other three sides.
Our 20 mil clear material can also be used to make custom curtains for your gazebo.
Gazebo Customer Testimonials
Rating:
Excellent

Comments:
I received my gazebo screens yesterday by Fedex and could not be happier with the service, quality and how fast the order arrived. The customer service was excellent and your help with the planning is invaluable.

Thanks for exceeding my expectations.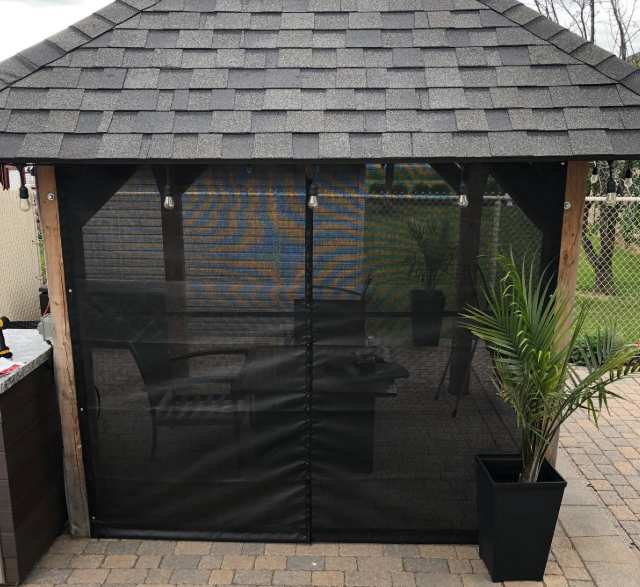 Michael sent us this photo of the 90% premium mesh installation he ordered to keep mosquitoes out of the gazebo. We added a pocket on the lower edge so that the covers can be rolled up and clipped when not in use. Grommets were used along the top of the screens for easy hanging on hooks and marine snaps were used on the sides to keep the screens tight against the gazebo frame so that mosquitoes don't find a way in.