Car Shelters and Portable Carports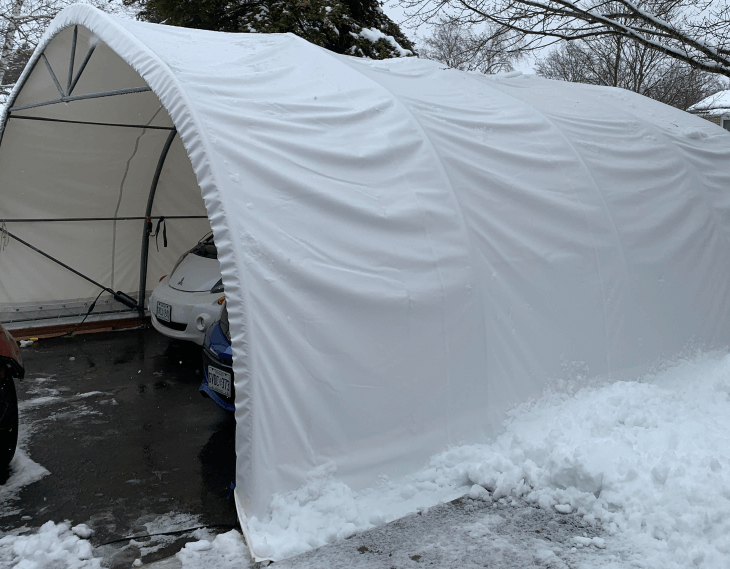 If you live in Canada or the northern US, you know what it is like to have to dig your vehicle out after a big snow storm. Installing a car shelter for the winter is a great way to protect your vehicles from the elements while also saving your back from having to shovel heavy snow.
If you have purchased a car shelter kit, it likely came with a white poly cover that will last two or three years before starting to tear or break down. Once you have gotten your use out of the original shelter cover we recommend replacing it with a heavy duty 18 oz vinyl cover that will generally last for ten years or more.
We make replacement covers in all shapes and sizes which can replace original covers made by brands such as ShelterLogic, Tempo, Project Source and Arrow. We also offer these covers in a wide range of colours, including white, grey and tan.
If it looks like your cover is on its last legs, don't wait until the snow flies to order your new cover. Consider placing your order in the late summer or early fall so that you will be sure to have your cover when you need it and you can pick a mild day to set up your structure for the winter. If your current cover is largely in tact, you can use this to obtain the measurements for your replacement cover. If your cover is completely destroyed, you will need to measure the metal piping to determine the size of your replacement cover.
We can make both the roof portion of the cover as well as one or even both ends. Ends can be completely enclosed or we can add a zippered opening if required. We can also add clear vinyl windows however these are prone to tearing in windy conditions.
Let's review some of the advantages of our replacement covers over original covers that are typically sold with car shelter kits.
Durability
Original covers are typically made from a polypropylene material. Over time, exposure to harsh weather conditions, including heavy snowfall and strong winds, can cause wear and tear on the covers. This often leads to premature deterioration, such as rips, tears, or fabric degradation.

Water Leakage
Poly tarps are designed to be water resistant but, as a woven material they are completely waterproof. Even minor drips through the material can lead to moisture buildup inside the shelter and can cause damage to your vehicle or other belongings stored inside. Our 18 oz vinyl tarps provide 100% waterproof protection for many years.
UV Protection
One of the benefits of parking your vehicle inside a car shelter is that it protects it from harsh UV rays. Direct sunlight is one of the factors in the premature failure of typical poly shelter covers.
Snow Load Capacity
Wet snow can be extremely heavy and can put a lot of strain on carport covers. Our 18 oz covers can handle a greater snow load than that or most original poly covers. Our covers, themselves, tend to be heavier than the original covers so always make sure that your shelter framing can support the weight of a heavier tarp as well as the increased snow load enabled by our tarps.
If you take your shelters down in the spring, we recommend giving the covers a good cleaning with soap and water and making sure they are completely dry before putting them in storage.