Tarps With Windows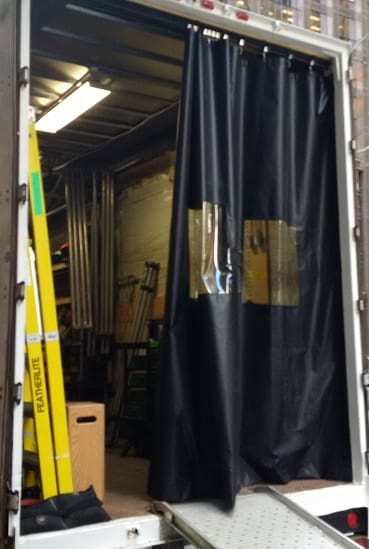 Sometimes you want to use tarps as curtains or barriers but you also want to be able to see through or allow light through a portion of the tarp. When using our Complex Tarp Order Form you can specify the number, size and location of the windows. Generally, clear vinyl is used as the window material but mesh could also be used if you would like to facilitate air flow.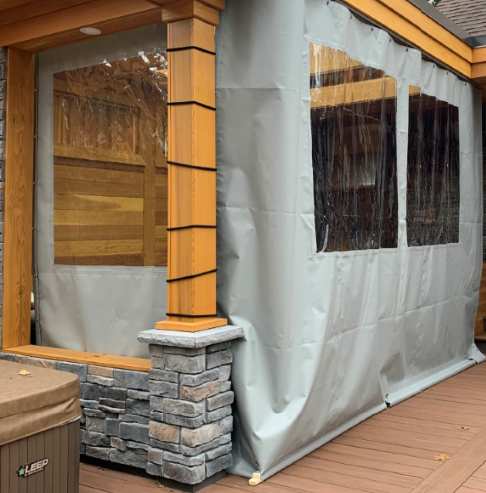 When adding windows to tarps, keep in mind that transparent material is not nearly as strong as opaque tarpaulin because it does not contain internal webbing known as scrim. For this reason, it is not recommended to have very wide transparent windows that are supporting the weight of a large tarp below. Instead, it is better to have several narrower windows that are interrupted by sections of the underlying (opaque) tarp. This strategy will reduce the load on the transparent window material and minimize the risk of it failing. This technique was applied in the photo shown here where a wide window was divided into two panels.
Another thing to be aware of is that the clear material that we use to make the windows comes on 54 inch wide rolls. We need about an inch of overlap to weld the clear onto the solid vinyl. This means that the maximum dimension in one direction should be limited to 52 inches if you want your windows to be seamless.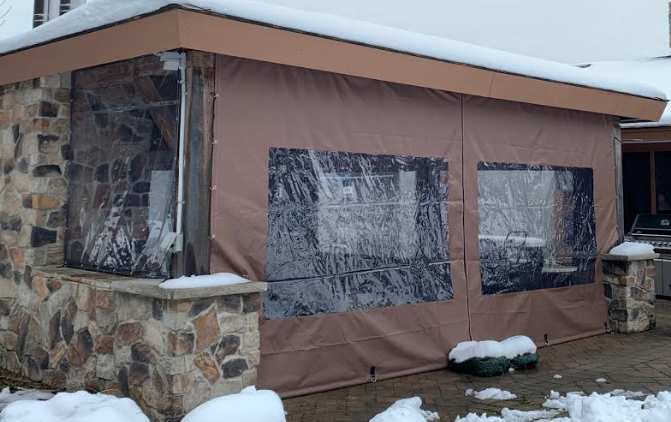 If you are enclosing an area where you plan to barbecue or run propane heaters, etc. make sure that the area is well ventilated to prevent carbon dioxide poisoning and asphyxiation. We also recommend installing carbon dioxide detectors in the area. The clear window material is FR rated meaning that it contains flame retardants. If there will be open flames in the area you should also consider using the FR version of our 18 oz vinyl. Keep in mind that the FR designation does not mean that the material will withstand higher temperatures. It just means that it will not contribute to any combustion. The material will melt when exposed to flame or high temperatures.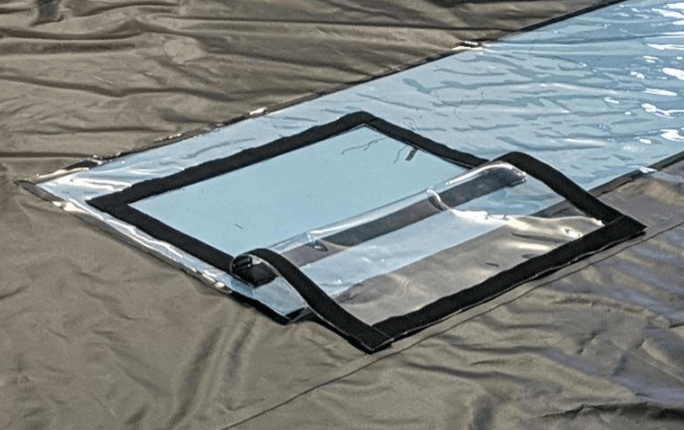 When designing windows into your tarp it is possible to configure windows that open. Here we show an example of a section of window that opens. This opening feature would allow you to pass supplies or food into an enclosed area. We generally use Velcro to secure the window in its closed position.
Windowed Tarp Testimonials
The lower two photos were sent to us by Richard Mason of Rockwood Ontario. Richard writes:
"I just wanted to send you a note to say how absolutely thrilled I am with the custom tarp walls your company made for me. First of all, the experience working with you and your team on the design, measurements and final schematics was very professional and an all around great outcome. You delivered the blinds earlier than I expected and the measurements were bang-on. Our outdoor gazebo isn't a perfect rectangular shape and the cut-outs and windows turned out great. I just installed them this past Friday and Saturday and we have already enjoyed hours outside out of the wind in the new enclosure. I will take some pictures over the next few days and send them to you. Please feel free to use them on your website, as I think Heavy Duty Tarps has done an amazing job for us and I'm very pleased to show off your great work. I'm also delighted to be able to support a local Canadian company.
All the best,
Richard"
---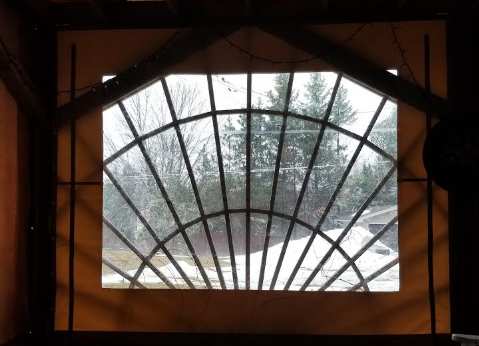 Serge Guignard of New Brunswick writes "We are extremely satisfied with the tarp we ordered and it fits our application very well, we will be ordering 2 more panels in the future along with a few smaller ones to complete our gazebo."
Serge sent along this photo.