Tarps used to protect porch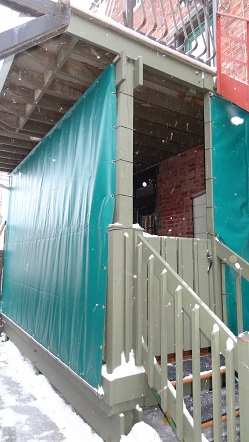 One of our customers in Québec was tired of having to shovel snow off their porch all winter. Moisture from melting snow meant that the deck required frequent maintenance and staining. Also, strong winds caused drafts inside the house. The solution to all of these problems was to protect the porch from the elements by enclosing it with a heavy duty tarp.
One down side is that the solid tarps may block your view. There are three ways that this could be overcome:
If you only need to protect against snow build up, and wind or drafts is not a concern, consider using a mesh material instead. For example, our 90% block mesh would block out snow even though it is still see through.
If you need both wind and snow protection, consider having us integrate windows into your solid tarp. The windows are made of clear solid vinyl and are heat sealed with the coloured vinyl used for the rest of the tarp.
To allow full visibility, our transparent vinyl material can also be used to make the entire tarp covering. This allows you to extend the season for your porch by essentially converting it into a sun room that you can enjoy in spring and fall while keeping out the snow during the winter months.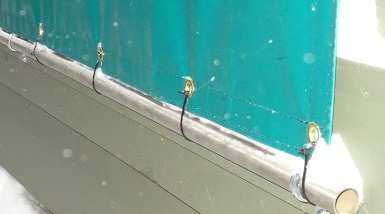 Here we see that common tie downs were used to hold the tarp in place. Another option would have been to have us put a channel (or pocket) at the bottom of the tarp into which you could slide a pole.
If you still get wind and cold air coming up from the bottom of your porch you could also consider installing Deck Skirting. If you only want to add privacy to your deck consider adding a deck railing tarp.