Shed Covers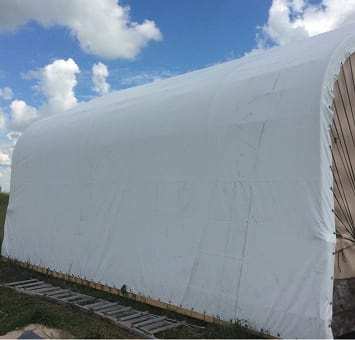 Utility sheds and dome barns can be covered with a heavy duty tarp to provide years of waterproof protection. All of our vinyl products contain UV treatment to protect against harsh ultraviolet rays. Often these structures originally come with a cover made from polypropylene, these don't tend to last as long as vinyl covers.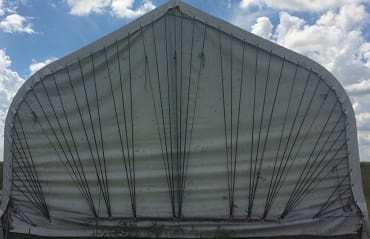 You will want to make sure your cover is very well secured to minimize flapping and prevent wind damage. Here we can see that the ends and sides have been tied tightly with seat belt reinforced grommets every 8 inches. Provided the framing can handle the weight, consider going with a heavier material, such as 22 oz vinyl to extend the life of the cover. Using white or some other light colour will help to keep the shed cooler in the summer.
Be sure to measure correctly since you don't want to make the cover too long on the sides or you won't be able to pull it tight.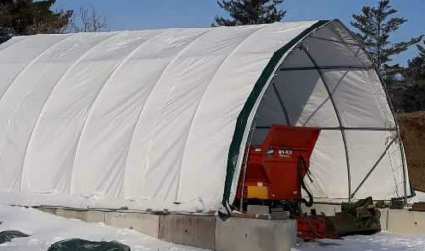 If you don't require enclosed ends on your shed like the one shown here you can price the cover using our free estimator. Simply determine the length and width of the rectangle needed to make the cover and enter these lengths on the estimator form. You can find more examples of this type of fabric cover on our arched and dome storage cover page.