Awnings and Canopies

Is your awning starting to show its age? Why not order a replacement awning from Heavy Duty Tarps. Whether you need something to provide protection from the rain or the sun, we've got you covered.
Our custom awnings can be made to your exact size and shape requirements. Our solid vinyl awnings provide full shade and water protection and are available in eleven different colours to help you match your decor. Our 90% block mesh awnings come in black and dark green (like the awning shown below). Replacement awnings ship for free to most places in Canada and USA.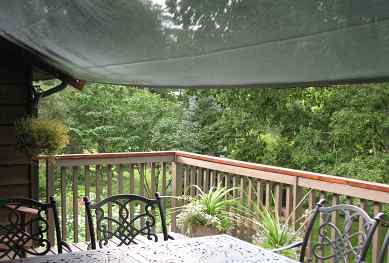 If you have a backyard patio or deck that is exposed to the sun you know how hot it can get on a warm summer's day. Why not add to your outdoor enjoyment by shading the area with a custom fitted mesh awning? If you are handy, you can construct your own awning for a fraction of the cost of a traditional retractable awning.
Here we show a couple of examples of do-it-yourself awnings made by our customers. We recommend using our 90% sun block material if you do not require a waterproof canopy. This will still let quite a bit of light through but provides enough shade that you can sit comfortably under the awning without being bothered by the heat and brightness of the sun. Rain water can drip through this material so it is a good alternative to solid covers in cases where your awning or canopy cannot be angled to allow for rain run off.
If you extend the awning along the side of your home it will also serve to help keep your entire house cooler in the summer.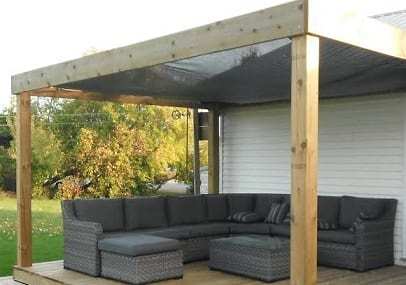 Typical retractable awnings are bulky, expensive and can take away from the attractiveness of your back yard. A better option is to build your own support system where you can easily mount our awning material in the late spring and remove it in the fall. This allows you to custom fit the canopy to your environment. Do-it-yourself awnings are not much work and extremely low-cost compared to what you would pay to have an awning professionally installed.
A shade awning also serves to protect your deck and patio furniture from harsh UV rays which damage wood coatings, paints and furniture fabrics. Even when you look carefully at your indoor carpets, furniture and wall coverings that are exposed to light from large windows you will notice that there is indoor fading. Use our UV protected mesh awnings to extend the life of your furniture both inside and out.
All of our shade mesh is available in black and dark green, the 60% shade mesh is also available in blue, red, yellow and fluorescent orange.
Sun Block Options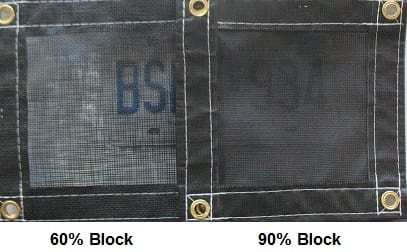 This image illustrates the difference between 60% block mesh and 90% block mesh (positioned in front of a licence plate). For most shade and privacy applications you will likely want to utilize the 90% block material. In very windy locations, the 60% block mesh will be less affected by wind conditions since it lets more air flow through but it won't provide much shade or privacy.
Waterproof Awnings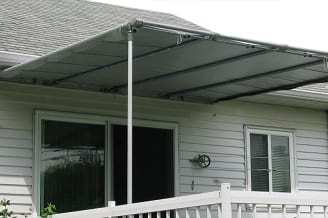 In addition to our mesh material, you can also use our solid vinyl products to create a completely waterproof patio awning. When designing a waterproof awning, be sure to build in a slope so that rain does not pool. Keep in mind that the solid material will block much of the sunlight. This will keep things cooler in the summer but it may also make the adjacent rooms darker than you might like.
Our 18 oz solid vinyl material is ideal for most waterproof awning applications and it comes in a wide variety of colors so you can choose the perfect color to blend in or accent the shades used in your home or garden.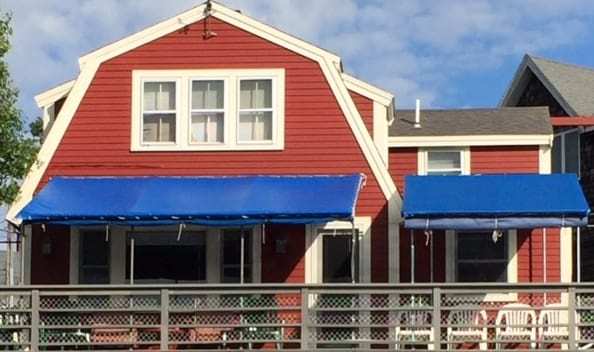 For waterproof awnings it is good idea to place them on a bit of an angle in order to help them shed water and debris such as fallen leaves. In the photo shown here, the awning on the right has been up for over a year including a New England winter and our customer informs us that it still looks as good as the new awning on the left.
Restaurant Patios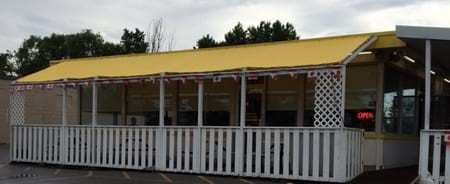 Our tarps are frequently used in restaurants and bars to cover outdoor patio areas as protection from sun and rain. Business owners should check with their fire marshal or refer to local building codes to see whether FR (fire retardant) tarps are required for their outdoor awning application. If so, Heavy Duty Tarps carries 18 oz FR material that can be used instead of our standard 18 oz vinyl.
Ice and Snow Cover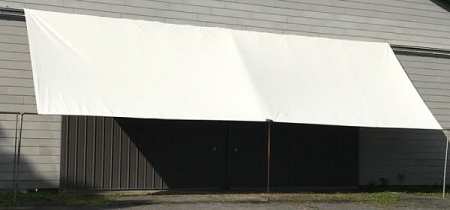 Awning can be kept in place year round to prevent ice and snow from accumulating in front of doors and other openings and also to help eliminate the need to shovel whenever there is snowfall. If you plan to use your awning for this purpose, keep in mind that snow can become extremely heavy if allowed to accumulate. Therefore you will want to ensure that your awning is angled with a steep pitch, like the one shown here, so that the snow will tend to slide off the awning and fall to the ground rather than piling up on the awning. If you do find that snow starts to accumulate on your awning you will want to use a broom or some other device to brush the snow off the awning before it gets too high.
Visible Seams

It should be noted that seams may be required when making your awning and they may be quite visible like the ones seen here. Generally seams are more visible in sunny conditions and with lighter colors. Seams are required for awnings that are wider than 57". If you have a particular preference for awning placement, please bring this to our attention.
Thinking About a Retractable Awning?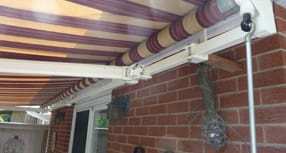 Typical retractable awnings are bulky and require expensive, heavy hardware to roll and unroll the fabric. The weight and cost of these awnings make it prohibitive to purchase something wide enough to shade your entire deck or patio. You need large bolts to support the weight of these monstrosities when you fasten them to your house. Often the striped material used in standard awnings is hideous looking.
Why not design your own support system out of wood so that it exactly matches the area you want to shade? Our 90% shade mesh is perfect for making a cost-effective awning of any length and width you need. You don't need a retractable system, just put it up in the spring and take it down in the fall.
Customer Testimonials
Location:
Avondale, Arizona
Rating:
Excellent

Comments:
Beyond my expectations, above average quality and delivered exactly as ordered.
---
Rating:
Excellent

Comments:
High quality tarp that will last many more years than store purchased tarps. It is heavy and does not flap in the wind but still lets the light through onto our deck. The time from order to delivery was exception for a custom built item. Thanks for your service.