Return & Cancellation Policy
At Heavy Duty Tarps we pride ourselves in the quality of our tarpaulins. We guarantee that our products are of excellent quality and that they will provide long term strength and durability.
Warranty
While we strive to ensure that our manufacturing process yields only flawless products, in the rare event of a product failure due to a manufacturing error, we will correct the problem at our expense. At our discretion we will either ship a replacement product or request that the original product be returned to us for repair. Unfortunately, since our products are often used in very harsh conditions we cannot extend this warranty to include failure caused by normal wear and tear or lack of care and good judgement by the user. Notification of a suspected manufacturer's defect must be given within 30 days of receiving your product.
Note that this warranty is limited to the repair or replacement of the specific product(s) purchased from Heavy Duty Tarps and does not cover related, incidental or consequential damages or losses of any kind that may result from a failure in our product.
Sometimes it is not convenient for the customer to return the tarp for repair or, for very large tarps, it may be cost prohibitive to ship the tarp back to us for repair. In such cases, we reserve the right to reimburse the customer an amount commensurate with the nature or severity of the manufacturing defect or to send the customer a repair kit so that repairs can be conducted by the customer on site.
Return Policy
Almost all of the products we sell at Heavy Duty tarps are custom made specifically for the customer who ordered the product. Therefore, we cannot accept returns since we would generally not be able to resell the returned product.
We stand fully behind the quality of our products. If you receive a product that does not meet your quality expectations please contact us right away and let us know your concerns. If possible, send us digital pictures that focus on the problem areas. If we determine that your product contains a manufacturing defect we will replace or repair it at no cost.
Please keep in mind that, despite our efforts to exactly match the size of product that you ordered or your requested grommet spacing, minor variances may occur. A minor variance would generally be a product that differs by less than one inch from the specification requested.
Most of the raw materials we use are about 5 feet in length. To make wider tarps we need to heat weld multiple panels together. We try our best to make these seams as discreet as possible but it is not uncommon to see noticeable seams in the finished product. Visible seams are not considered flaws.
Sometimes products will become soiled during manufacturing shipping or handling. We regret when this happens but we do not consider this to be a flaw in the product. In most cases you should be able to remove any soiling using dish soap and water. The cleaner Fantastik by SC Johnson also does a good job of cleaning our vinyl products.
Cancellation Policy
Generally, we do not begin to process your order until it has been paid for. If you change your mind about your order and you have not yet paid for it, there is nothing you need to do. As a courtesy, we would appreciate it if you let us know that you don't want to proceed with the order.
If you change your mind after you have paid for your order, please contact us immediately to determine whether we have started manufacturing your order. If we have not yet begun your order production you can cancel without penalty. Unfortunately, if we have already started cutting or assembling your product it is not possible to cancel your order.
Hem Policy
Normally, our custom made tarps include a two inch hem formed by wrapping the tarp material around seat belt webbing. Sometimes, the size of the tarp ordered does not lend itself to this style of hem and we will adjust the hem to exclude the wrapping feature. Specifically, this is done when the size of the finished tarp is such that an additional weld (seam) would be required to facilitate the wrapped hem.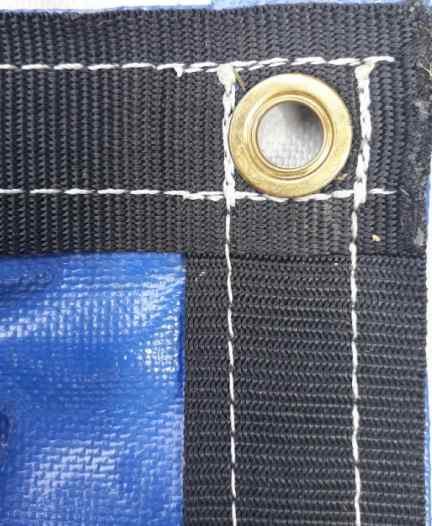 For example, most of the raw material we use comes in 61" widths. Let's say you order a tarp that is 20' x 117" . In such a case, we would weld two strips of material together to form a raw material width of 121" (61" + 61" minus 1" for overlap). In this example we would sew our standard hem since we have 4" of excess material (2" per side) to wrap around the seat belt webbing. Now, let's say the tarp your ordered is 20' x 10' (120"). In this case we would need to introduce another seam in order to have enough material to accommodate the 2" hem. So, rather than introducing a new seam, we would forego the wrapped hem.
On the outside of the tarp, both styles of hem look the same, here we see the difference in appearance on the inside of the tarp.