Patio Enclosures
Many of us enjoy spending time on our patios and wish we could extend the barbeque season. One way to do this is to enclose your patio area with attractive, custom-made tarps. There are two main reasons you might want to consider this:
Solid tarps allow help to keep the patio area warm by blocking the wind and trapping the sun's warmth. This works well for the spring and fall when temperatures may be too cool to site outside in the open but it may not be ideal for summer months since an enclosed patio area might be become somewhat of a sauna.
Mesh tarps are best for the hot summer months because these allow airflow and provide shade.
One of the biggest advantages to completely enclosing your patio in mesh or solid tarps is that this will block out mosquitoes, wasps and other nasty insects so that you can sit outside without being pestered.
If you have neighbours nearby, tarps are a great way to enhance the privacy and intimacy of your patio area. This is important if you use your deck or patio for entertaining guests, outdoor dining or even remote work functions.
Enclosing your patio will also help to reduce or eliminate leaves, pollen and debris which tends to blow around in your yard.
Since tarps block harmful UV light, covering your patio will also help to reduce the frequency by which you will need to stain your deck and perform other maintenance, such as cleaning.
Here is an example of a fully enclosed patio using solid 18 oz tan vinyl with integrated windows: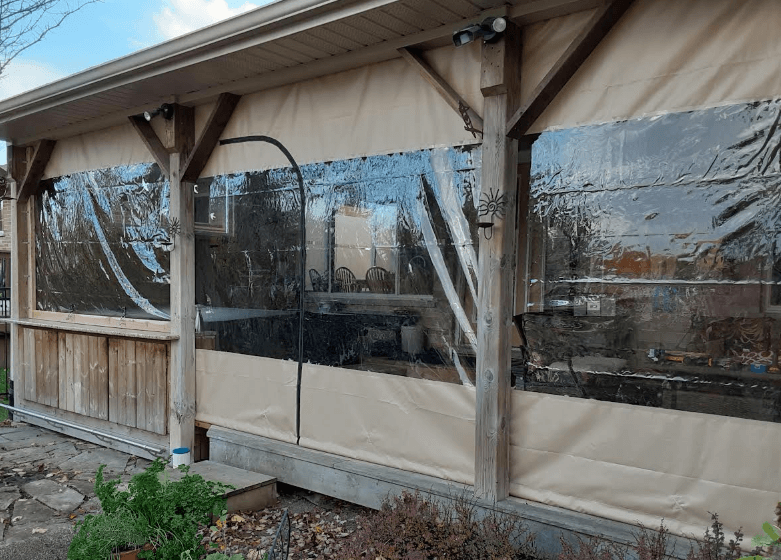 One thing you need to be careful of when completely enclosing your patio area like this is that you should not do any barbequing inside since this will give off carbon monoxide which can be harmful or even deadly of it is not allowed to escape the enclosed area. Mesh windows could be used in place of clear vinyl to facilitate better airflow.
You should also think about whether you require access to your back yard from the enclosed patio. In this installation we incorporated a zippered opening to serve as a doorway.
Also think about how you will want to fasten the tarps to your patio. Generally, you will want to hang the tarps using grommet fasteners. In this installation we included a pocket along the bottom of the tarps. This is a channel where in you insert a pipe of a chain to weigh down the bottom of the tarp and keep in taunt. This is preferred over screwing down both the top and the bottom since a large tarp like this can catch a lot if wind. If the tarp is secured on all edges, the tarp must bear the full wind load. Since the windows don't have any integrated reinforcement these would most likely tear under heavy load. On the other hand, if the bottom is allowed to "float" in the wind the tarp has some give and is less likely to tear.