Fitted vs. Flat Tarps
You have two main options when ordering a tarp to cover something in the shape of a box or a cylinder.
Flat Tarp
Fitted Tarp
Flat Tarps
When a flat tarp is placed over something that is box shaped, you will find that extra material will gather in the corners and ends as we show here.

In most cases you can simply fold over the corners much like when you wrap a boxed gift. It is a little hard to see in this photo of a black tarp but the material at the sides has been folded toward the back of the trailer.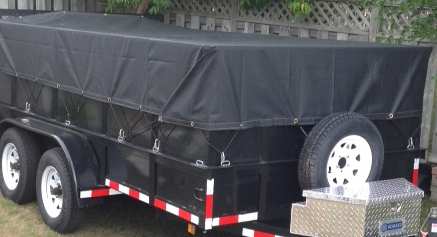 If you are planning to fold it like this it is ideal if you have a grommet positioned so that it ends up in the location where the fold will end. You can see here that the blue tarp below was folded over but there was no fastener at that location so it was not possible to draw the corner into the side.
Usually, the best way to ensure that you will have a grommet in the end of the fold is to make the overlap on the sides match that of the ends. In such a case, the corner of the tarp will tend to be the end point that gets drawn in. Since tarps almost always have grommets in the corners (unless you tell us not to put one there) you will always have a grommet that is positioned to facilitate the folding of your flat tarp.
Fitted Tarp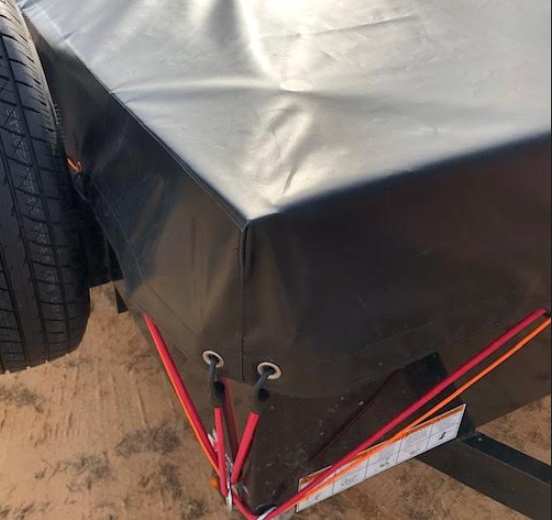 With fitted tarps, we cut out the excess material that would need to be folded over and we sew the two sides together. This provides a neater look but it also gives you a little bit less flexibility for how you use and size the tarp since it must be sized to your exact application. It is always good to add an inch or so to your sizing to make it easier to install and remove the tarp and also to give us some tolerance. If the tarp is even a tiny bit too small, it won't fit onto whatever it is you wanted to cover.
It is also worth noting that since the corners are sewn together, it is possible for traces of moisture to seep through the corners. This is usually not a big deal since any water droplets that make it to the inside of the tarp will generally just drip to the ground. Nevertheless, if it is imperative that no water gets under your cover, a non-fitted tarp will actually be more waterproof.
When ordered a fitted cover online, you will need to use the complex tarp ordering function since this screen allows you to enter a height value. When using this function you specify the width and the length to be just slightly bigger than the dimensions you want to cover and the height is used to indicate how far down the sides the tarp should go.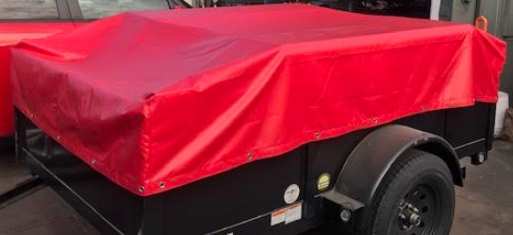 Fitted Tarp Testimonials
Location:
Worcester, Massachusetts
Rating:
Excellent

Comments:
Heavy Duty Tarps gets my 5-star rating for customer service, timely delivery, and a high-quality tarp made exactly to my specifications. Thank you!