DIY Tarp Repairs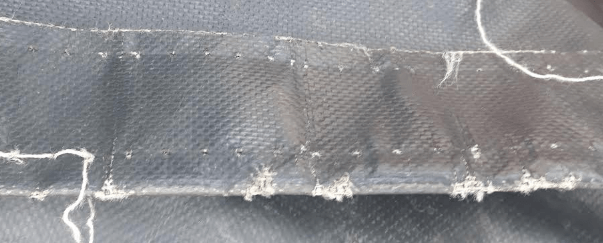 One of our first customers sent us the following email and photos showing how he repaired one of our tarps.
"I bought this tarp from you about 9 years ago and it has been great. I recently used the tarp to cover my trailer on a trip from Ontario to Nova Scotia and, unfortunately, I did not use proper rope to tie it down. I had the back tied using some old binder twine that failed when I was driving through Toronto on the 401. I did not have any other rope with me so I had to drive for quite a while with the tarp flapping in the wind. This caused a lot of wear to the back of the tarp and the stitching gave out as well. You can see the damage in this photo."
"Since the tarp is still in good shape otherwise, I thought I would see if I could stitch the tarp by hand. I did not have any heavy duty thread but I found some strong string that I was able to feed through a large needle. The main trick in completing the repairs was to try to feed the needle through the original sew holes. Doing this I was able to push the needle through by hand. A couple of times I did not quite line up the needle with the holes and I had to use plyers to pull the needle through. To complete the sewing job I just tied the new string to the original hem thread at each end. Hopefully, I will still get a few more years out of the tarp before I have to order a new one."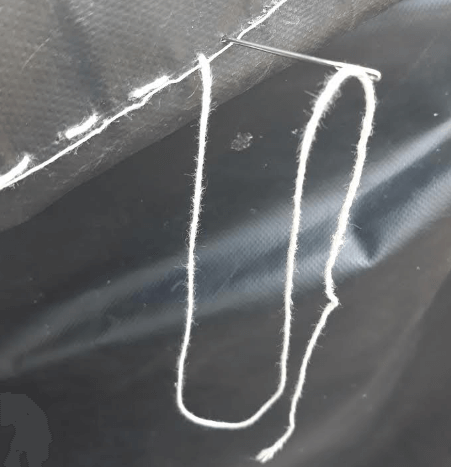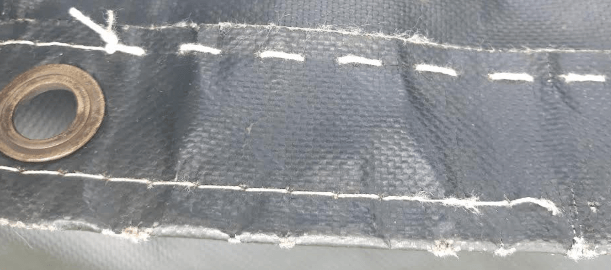 If you have a unique way you have used our tarps or an idea, like this one, on how to get more life out out of one of our tarps, use our contact form to send us your idea and we will post it on a blog.